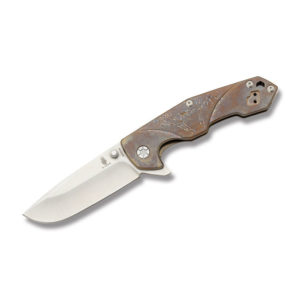 The finish on the Kizer Bambu handle looks like weathered bronze, but it's not actually a patina and it's not bronze. It's Kizer manipulating the titanium handle's color with heat. These handles are different than anything else we've found in the Kizer lineup.
The 6AL4V titanium handles are the center of attention on the Bambu. They feature the unique oxidized bronze finish that makes the knife stand out. Unlike a real patina, this finish isn't slowly damaging the handle. This finish was applied with heat during the manufacturing process. The handle has a subtle bamboo engraving in the finish that relates to the name of the knife. Besides looking great, the handle's shape provides tons of grip and the flipper serves as a finger guard when opened.
The S35VN stainless steel drop point blade is designed for efficiency. It's a very straightforward 3-5/8″ design that's useful for a variety of cutting tasks. Opening it is as simple as pulling on the flipper mechanism or pushing on the ambidextrous thumb studs. Kizer's flipper action is always impressive and a pleasure to open – so very smooth and reliable. The linerlock mechanism locks the blade in the open position until you're ready to fold up and move on.
Kizer Bambu Details
CPM-S35VN Stainless steel blade
Ambidextrous thumb studs
6AL4V Titanium handles
Oxidized bronze finish
Reversible pocket clip and lanyard hole
3 5/8″ Blade length
5″ Closed length
The Kizer Bambu has a truly gorgeous handle. It's seasoned and weathered look is classic and unique, and the blade is made out of one of the most desirable modern steels on the market. It's really a knife that can go from beauty queen to workhorse and back with no problem. We found the Kizer Bambu online for $172.00. Simply click any of the links in this article or the button below to find it.