The SOG SEAL Strike is the newest knife in the SEAL series. SOG has taken everything they've learned from real-world deployments, combat situations, and veteran feedback to produce a well-rounded combat knife. The SEAL Strike may be at home on the battlefield, but it has no problem accomplishing your daily tasks with ease.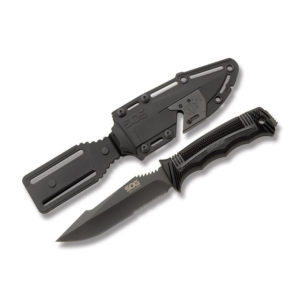 The 4 7/8″ blade of the SEAL Strike is made of Aus-8 steel. It's a stainless steel that's capable of operating in wet conditions without damage to the finish. Since it's a tactical knife, the blade is coated in a black Tini finish which eliminates glare on the blade. In a combat situation the glare can giveaway your position, but for a civilian knife the finish just looks great. The blade is an aggressive clip point pattern that would help with stabbing penetration, and it features partial serration for more versatile cutting.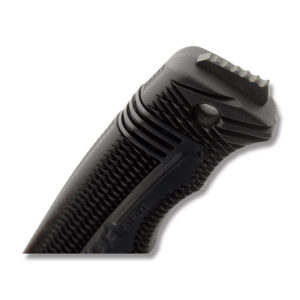 The glass reinforced nylon handle has a dramatic grip texture that helps you maintain your grip even while working in adverse conditions. SOG added a metal band over the grip to help reinforce it for hard use and abuse.
The handle is fairly ergonomic and features finger grooves down the belly of the handle. There is also a section of jimping on the spine of the blade to give your thumb a safe place to rest. The base of the handle features a lanyard hole and the exposed tang that works as a glass breaker and skull crusher.
The SEAL Strike comes with a hard-molded nylon belt loop sheath. It's a tactical design with integrated line cutter, sharpener, and ferrochromium fire starter. The design also includes strap holes and metal eyelets that allow you to tie it to your leg or pack. This gives you plenty of versatile ways to attach this knife to your preferred gear.
SOG SEAL Strike Details
AUS-8 stainless steel blade
Black-tini finish
Partially serrated edge
Clip point design
Glass reinforced nylon handle
Lanyard hole
Exposed glass breaker/ skull crusher tang
4 7/8″ Blade length
9 5/8″ Overall length
Hard nylon belt sheath included
Sheath includes integrated line cutter/ sharpener, and ferrochromium fire starter
The SOG SEAL Strike is a well-rounded combat knife. Its versatile features make this knife capable of accomplishing a wide variety of tasks. SOG's MSRP on the SEAL Strike is $134.00, but we found it for $76.99. Simply click the button below to find this deal.