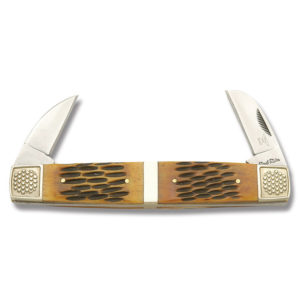 People love the Rough Rider Whittlin' Buddy enough for its shape, size and style. This 5 1/8″ genuine bone-handled pocketknife features a single, short whittling blade at each end: a standard sheepsfoot and a modified sheepsfoot shaped more like a wharncliffe. The nickel silver bolsters feature texturing for adding grip. The Whittlin' Buddy looks like a classic knife but works perfectly as a whittler.
The 440A stainless steel blades are both 1.75″ long and 1/16″ thick. That means they sharpen easily, hold an edge, and resist corrosion well. The length of the blades make the tight curves and corners of carving that much easier. You can really choke down on the blade while you work, which isn't so easy with longer blades.
The Whittlin' Buddy features genuine amber jigged bone handles with a nickel silver spacer in the center. The bone really makes this traditional knife look traditional. At 5 1/8″, the handles give you a good amount of space to hang onto while you work. This is incredibly important for carving because it lessens hand and grip fatigue.
Rough Rider Whittlin' Buddy Details
1-3/4″ Modified Sheepsfoot and Sheepsfoot blades
Blade thickness: 1/16″
440A Stainless steel blades
Genuine Amber jigged bone handle
Brass pins and liners
Nickel silver spacers and embossed bolsters
5-1/8″ Closed
Imported
In the end, if you like to whittle or carve, the Rough Rider Whittlin' Buddy is a great little knife to throw in your pocket for those days you can't be at home. It makes carving easier and looks great. If you're interested in getting one of these, they run just under $15 and you can find them by clicking on any link in this article or on the button below.