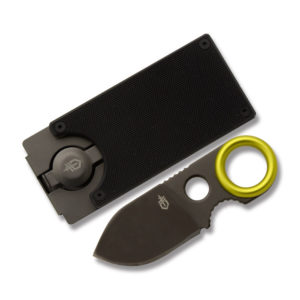 As I'm apt to do, I was rummaging around the web looking for something unique to show in a Knife Newsroom Quick Find. That's how I stumbled onto the 3.6″ Gerber GDC Money Clip. It's a 1.75″ 7CR17MOV stainless steel plain edge blade that locks into a steel and G10 money clip. It's not an innovation to end all innovations, but it sure could come in handy when you need a knife and don't want your pockets filled to the brim.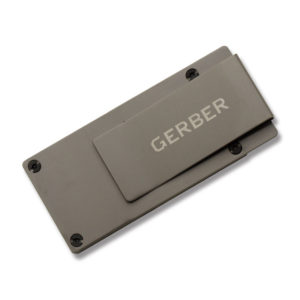 Gerber says, "Thanks to technology via phone apps that have replaced an array of credit and loyalty cards, fewer items wind up in wallets." They believe this translates into more people carrying money clips. "Not only does it hold up to five essential cards [and cash], but it contains a 1.75 inch fine edge stainless steel blade for discreet access and ultra-practical incorporation into the daily routine," Gerber says.
Gerber also boasts that this small fixed blade has a "safe grip." According to Gerber, you can "wrap your finger around the ring, press your thumb against the thumb grip, and you've got a solid hold that won't budge when you put a bit of power behind a cut. When you're done, the blade snaps back into its sturdy, safe money clip sheath."
Here's a video of the Gerber GDC Money Clip in Action
Gerber GDC Money Clip Details
Blade length: 1.75″
Closed length: 3.6″
Weight: 2.9 oz
Holds 5 credit cards
Finger slot with jimped thumb rest for maximum grip
Rust proof materials
Titanium coated steel body
G-10 front plate
Green anodized aluminum accents
The Gerber GDC Money Clip is available on the web just under $28. If you're looking to manage your pocket warehouse and keep everything in one spot, the GDC Money Clip just might be for you. You can find it by clicking any link in this article or the button below. And by the way, if you're wondering, the GDC stands for Gerber Daily Carry.