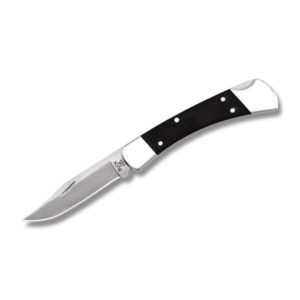 The Buck 110 is still the most popular Buck pattern ever made, and now it's available with G10 handles and S30V blade steel as the Buck 110 Folding Hunter Pro. As Buck tells us, "The Pro version delivers the same expectations you've come to have from the original 110, but with a different, updated look. The clip point blade is upgraded to S30V steel while the handle is G10 with brushed nickel silver bolsters."
If you lay out the Hunter Pro out beside the original Buck 110, you'll see some striking visual differences. Gone are the brass bolsters – replaced by nickel silver. The wood handles have been replaced with heavy-duty, extraordinarily durable black G10 handles scales, and while the clip point blade might look the same to the naked eye, it's not. It's now S30V steel, instead of the standard stainless or high carbon.
What's not different about the Hunter Pro is just as important. It's still the same Buck 110 we've come to know and love. The same knife that is among the best-selling knives of all time. The blade is still 3.75″ long, in the same clip point shape as the original. It's still 4 7/8″ closed, and it still features a lockback mechanism.
Buck 110 Folding Hunter Pro Details
S30V stainless steel blade
G-10 handle
Nickel Silver bolsters
Brass pins and liners
3-1/2″ clip point blade
Blade thickness: 1/8″
4-7/8″ closed
Black leather belt sheath
7.7 oz
Made in the USA
The new Buck 110 Folding Hunter Pro features some fantastic materials which bumps its price point up to just under $100. If you're interested in learning more about this knife or picking one up for yourself, simply click any link in the article or the button below.