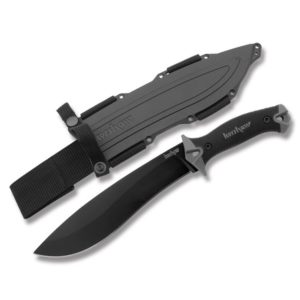 The Kershaw Camp 10 is a unique take on the classic Nepalese kukri design. The kukri design is world renowned for its chopping power and blade strength. Kershaw has decided to take these features and incorporate some modern elements to make a medium sized knife with the cutting power of a machete. If you're more of a knife person than an axe or machete person, try carrying the Kershaw Camp 10 on your next camping trip.
The Camp 10 may have traditional blade shape, but the 65Mn steel is about as modern as it gets. 65Mn is formulated to provide good wear resistance and hardness. The medium-high carbon content makes for a high degree of toughness and resilience. The drawback to this steel is that it can rust if not cared for. Luckily, Kershaw has helped prevent rust buildup by adding a black powder coating to the blade.
The exaggerated recurve shape of the blade gives you a harder impact with less swing. This saves you time and energy when chopping and makes it a worthy campsite tool.
Kershaw used ABS plastic with a rubber over-mold to make the handle. ABS is lightweight and durable enough to survive an accidental impact with a limb. The rubber over-mold is great for use in wet or muddy conditions. With a 10″ blade coming down hard, you really don't want it to slip. As an additional layer of security against slipping, Kershaw added dual lanyard holes to the handle.
The Camp 10 comes with a pretty impressive sheath for an outdoors knife. The Kydex sheath is durable and light weight. It features lashing grommets and adjustable ballistic nylon straps that allow for a vertical or horizontal carry.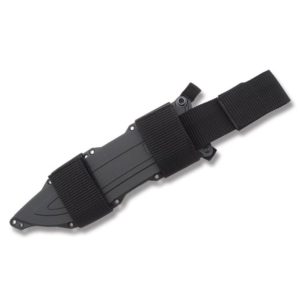 Kershaw Camp 10 Details:
65Mn steel blade
Full-tang construction
Black powder coating
ABS plastic handle with rubber over-mold
Hex rivets
Dual lanyard holes
10″ Blade length
16″ Overall length
Kydex sheath for horizontal or vertical carry
The Kershaw Camp 10 is a unique take on a traditional kukri. It still features the traditional recurved blade that kukris are famous for, but with modern steel and handle materials. The Camp 10 has an MSRP of $69.99, but we found it online for $39.99. You can find this deal by clicking any link in this article or the button below.