The CRKT Desta features high functionality out of a basic two piece-design. This unique design comes from the mind of Arkansas designer, Pat Crawford. He's renowned as a pioneer in the combat folder genre and has clearly demonstrated his expertise with the Desta. This knife may not look like much, but its incredible light weight and low-profile design makes it one of the most comfortable EDC knives for its size.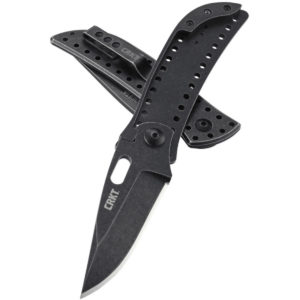 CRKT tell us, "This unique everyday carry folder was originally designed as a compact self-defense knife, but evolved to be an easy-to-carry everyday companion." This is mainly due to the Desta's innovative two-piece design.
The blade is connected to the handle like an average knife, but the handle is a minimalist design that only covers part of the blade. Half of the blade stays exposed when the knife is closed, but it leaves no way for you to accidentally cut yourself. It's a safe design that trimmed away any metal that's not absolutely essential to the operation of the knife. This reduction of metal not only gives the Desta a very low-profile design, it also gives it a 2.3oz total weight.
The locking mechanism is similar to a lockback design, but it's just not like anything else on the market. When opened, a square notch on the Desta's handle locks into the spine of the blade. The more firm you grip the handle, the stronger the lock. If you have to bear down on the knife for intense cutting, your lock is stronger than normal.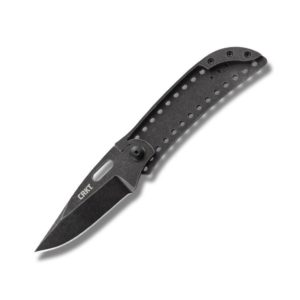 CRKT outfitted this knife with an 8Cr13MoV stainless steel blade. Both the blade and handle feature a black stonewashed finish for a professional uniform look. The blade is a 2 9/16″ clip point design with a thumb hole for easy manipulation. Its 3 11/16″ closed length and tip-up pocket clip make the Desta easy and comfortable to carry in pocket.
CRKT Desta Details:
Black stone wash 8Cr13Mov Stainless steel blade
Black stone wash coated stainless steel handle
Lockback
Thumb hole
Tip-up carry pocket clip
2 9/16″ Clip point blade
1/8″ Blade thickness
3 11/16″ Closed length
6 3/16″ Overall length
2.3oz Weight
The CRKT Desta is another innovative design rolling out of the CRKT factory.  Ironically the word "Desta" translates to joy and happiness, which is exactly how most would describe carrying a great EDC knife. If you're a fan of practical, low-profile knives, check out the CRKT Desta. You can find this knife by clicking the button below or any of the links in this article.