In a sea of similar looking new knives, the Kershaw Outright truly stands out in a crowd. It's blue, and I don't mean just a little bit blue. The Outright is blue from stem to stearn. The PVD-coated handle and blade make the Outright very different from most anything else shown at SHOT this year, and less that $40 price tag makes it almost instantly pocket-worthy.
If you're not famliar with PVD, here's what we know. According to Surface Solutions, Inc., "Physical Vapor Deposition (PVD) coatings are extremely hard and inert. When applied to a tool, PVD coatings provide hard, wear resistant surfaces that don't interact with the materials they contact. This reduces friction and greatly prolongs tool life." In fact, Surface Solutions writes that you can "Use PVD coatings to get up to 10 times the tool life, compared to an uncoated tool."  The Kershaw Outright sports both a PVD coated blade and handle.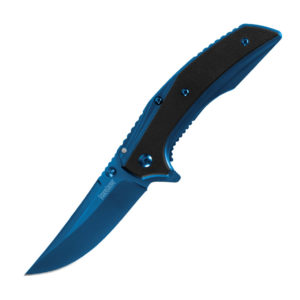 There's more to the Outright than just it's blue surface coating. Kershaw tells us, "Its upswept blade makes it an excellent slicer, while the 8Cr13MoV blade steel ensures good edge retention, strength, and hardness. The Outright's handle is matching blue PVD-coated steel with a sturdy frame lock. For additional style and enhanced grip, the handle has an overlay of black G10."
The 3″ 8Cr13MoV blade opens via thumb stud or flipper via Kershaw's tried and true SpeedSafe assisted-opening mechanism, which we know is super fast and reliable.  The G10 overlay makes the 4.4″ handle easy to hang onto when in use. At 7.1″ overall the Outright is nothing to sneeze at, but still small enough to comfortably carry every day.
For those of you who worry over these things, the Outright does come with a non-reversible, single position deep-carry pocket clip (tip-down), but that really didn't bother us too much. The knife is so different from everything we've seen this year, that it will easily start a conversation whenever you use it.
Kershaw Outright Details
SpeedSafe® assisted opening
Flipper or thumb stud
Frame lock
Single-position deep-carry pocketclip (left tip-down)
Steel: 8Cr13MoV, blue PVD coating
Handle: G10 front, blue PVD coating back
Blade Length: 3 in. (7.6 cm)
Closed Length: 4.4 in. (11.1 cm)
Overall Length: 7.1 in. (18.1 cm)
Weight: 4 oz. (114 g)
The Kershaw Outright is part of Kershaw's new 2018 lineup and should start shipping to distributors soon. If you'd like to pre-order yours, you can click any link in this article or the button below.