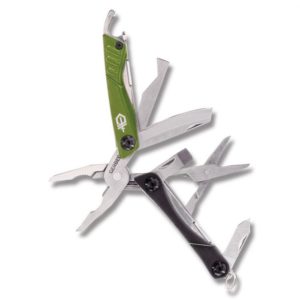 The 2.75″ Gerber Dime fits on your key chain, but it's no slouch when it comes to usefulness. It boasts 12 different useful tools, which basically makes it the equivalent of a small Swiss Army knife with needle nosed pliers.
The Gerber Dime comes in three different colors (black, green and purple). At 2.75″ closed, it's perfect for your key chain or even your pocket. When the Dime butterflies open, it reveals a set of spring-loaded, needle-nosed (and standard) pliers and expands to 4.25″ overall. Besides the pliers, the Dime features a wire cutter, tweezers, a fine edge blade, a genius little retail package opener, scissors, a medium flat head screwdriver,  a coarse and fine file, a cross driver and a lanyard ring. And, if that wasn't enough, the Dime has an exterior bottle opener that's available even when it's closed.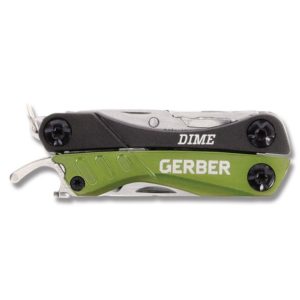 This imported mini multi tool runs just under $20, and would be a great addition to just about any pocket, purse, or pack. It's a nice little tool that could come in handy in a pinch. As Gerber says, "The idea is simple: always be prepared."
Gerber Dime Details
Overall Length: 4.25″
Closed Length: 2.75″
Weight: 2.2 oz
Compact, lightweight size fits perfectly in pocket
Convenient, easily accessible butterfly opening
1-7/16″ Blade
Blade Thickness: 1/16″
3Cr13 stainless steel construction
Includes: Fine edge blade, Needle-Nosed and Standard Pliers, Wire cutter, Package opener, Scissors, Medium flat head screwdriver, Crosshead screwdriver, Bottle opener, Tweezers, and File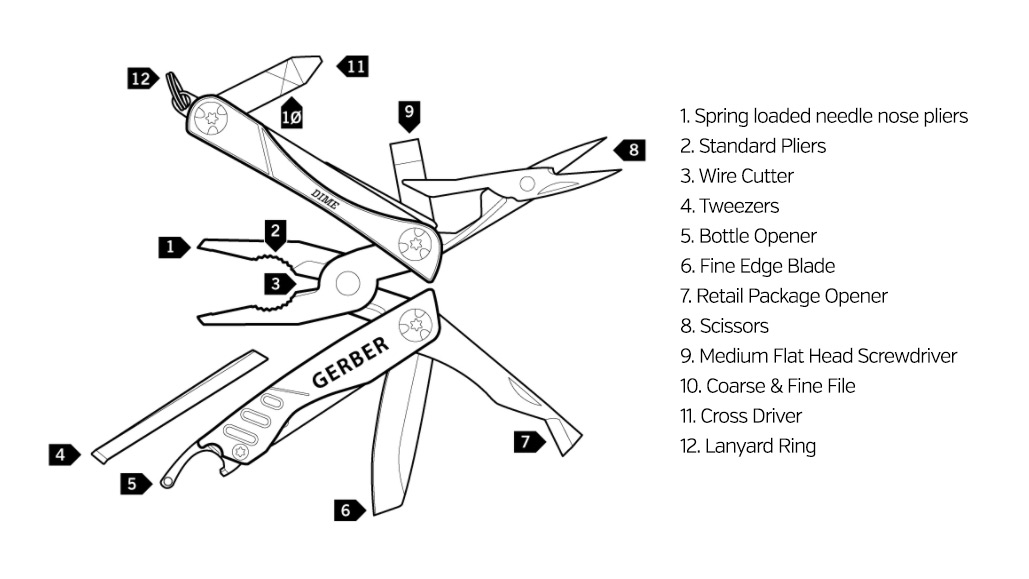 If you're interested in putting the Gerber Dime in your pocket, simply click any link in this article or the button below.