We all know that knives can't hold an edge forever. Like anything else, our knives need care and blade maintenance to achieve peak performance. While it's second nature to some of us, we still get a lot of people asking how to preserve that new-in-the-box performance years later. I've put together a list of basics that can come in handy for amateurs and experienced users alike.
Popular sharpening options:
There are as many knife sharpeners out there as there are stars in the sky. Typically, you will come across three main styles; a console kit, sharpening stones, and pocket sharpeners. Below, I've listed a few models and their pros and cons.
Spyderco Tri-Angle Sharpmaker
Item number: SP204MF Price: $62.97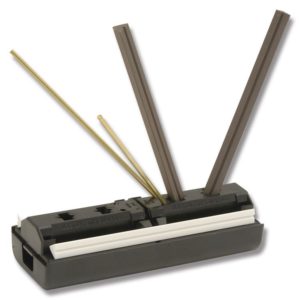 The Spyderco Tri-Angle Sharpmaker is a console type sharpener. This is a desk top style that allows you to adjust the angle you sharpen your blade at. Units like this are the easiest way to restore the factory edge back to your knife. This model includes fine and medium grit stones that are shaped to sharpen straight blades and serrations. Spyderco includes an easy to follow instructional book and DVD.
Pros:
Adjustable sharpening angle
Sharpens serrations
Accuracy
Instructional DVD included
Cons:
Low portability
Loose parts
Price

DMT Diamond Sharpening Kit
Item number: W6FC Price: $59.99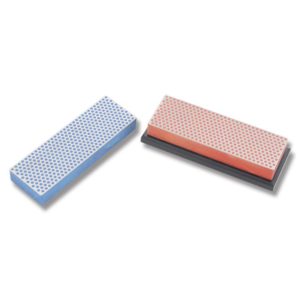 DMT's Diamond Sharpening Kit includes two bench top diamond whetstones. These 6″ whetstones are perfect for those who already know a bit about sharpening and can eyeball their sharpening angle. DMT includes a fine 600 grit stone (red) and a coarse 325 grit stone (blue). The durable monocrystalline diamond surface and unique dot pattern makes quick work of even the hardest stainless steel. These stones come with a son-skit rubber pad for stability in use. DMT also offers more portable and scaled down versions of these stones, but this kit is well rounded for most types of knives.
Pros:
Diamond surface effective on all steel
Doesn't require oil to use
Can easily travel with you
Can get larger or smaller versions of these stones
Cons:
Sharpening experience required
No scale for sharpening angle
Can't fit in pocket
Can't sharpen serrations

Lansky Blademedic Knife Sharpener
Item number: SI9760 Price: $11.99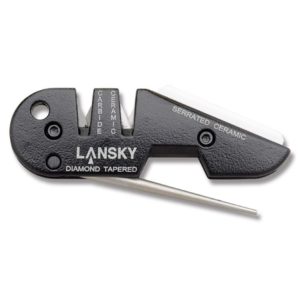 The Lansky BladeMedic Knife Sharpener is a portable and well-rounded option for EDC. This tool includes a stainless steel construction with rust preventive coating, lanyard hole, tungsten carbide sharpener, ceramic sharpener, serration sharpener, and a tapered diamond rod. Between all of these tools, there isn't much you can't fix on the go. This tool measures 3 7/8″ when closed which makes it great for your tool box, pocket, car, camping gear, etc.
Pros:
Portability
Four different sharpeners
Can sharpen serrations
Lightweight
Cons:
Not fit for larger knives, axes, or tools
No sturdy base which can be a safety concern
Non-diamond surface
Difficult to use with hard steel

Popular oil options:
Oil is important for a few reasons. It helps protect the steel from developing rust, keeps the folding action working smooth, can remove minor dirt and debris. Just about any oil will accomplish these tasks, but these two classic options really excel in this category.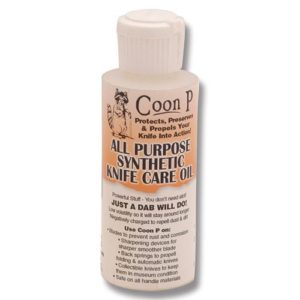 Coon P All-Purpose Knife Care Oil
Item number: COONP2 Price: $6.99
The Coon P All-Purpose Knife Care Oil originated from a synthetic base fluid developed by NASA and used as a primary lubricant for the Crawler (shuttle transport vehicle). This base was re-engineered and specifically developed for the Coon P line of products. It's negatively charged to repel dust and dirt, provides excellent rust prevention and control, lubricates on the molecular level, tested safe on all handle materials, it can even be used on sharpening devices for a sharper and smoother blade.

Ballistol
Item number: YE04 Price: $9.99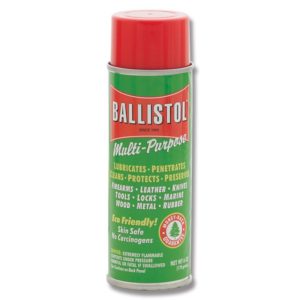 Ballistol is one of my favorite products on the market. It was developed in Germany just before the outbreak of World War I. It was used as the primary lubrication for the German military from 1905 to 1945. It's a penetrating lubricant that cleans, protects, and preserves steel. It's a bio-degradable oil that is safe for use on leather, knives, guns, wood, tools, marine, camping, and fishing equipment. You can purchase Ballistol in an aerosol can or in liquid form. I've used this product on everything from my guns to wood furniture and swear by it.

Popular anti-corrosion/ restoration options:
Rust and corrosion is the kryptonite of every knife owner. There is nothing more annoying to me than seeing it developing on one of my bushcrafting knifes after a long weekend in the elements.  This pesky process doesn't just effect those who have carbon steel blades. Stainless steel blades, brass bolsters, nickel silver shields, all of them will oxidize with time. Luckily for us, there are plenty of available products to keep our knives in perfect condition.

Multi-Purpose Rust Eraser
Item number: UC135 Price: $3.99
A Multi-Purpose Rust Eraser is a handy tool to keep on hand if you're an outdoor enthusiast. It works just like a pencil eraser removing writing on paper. This is nice because you don't have to use it in conjunction with any cloths or anything else. This is a primitive system that won't work miracles or restore your blades original finish, but it gets the job done in the field.

Case Paste
Item number: CAP01 Price: $4.99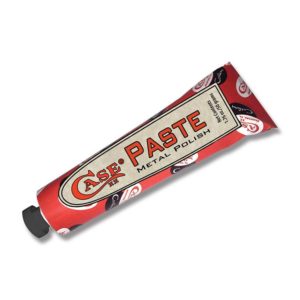 Case Paste is the premier polishing paste for most metals. It will restore shine to bolsters, blades, and shields with just a bit of elbow grease. Personally, I use this product for restoring antique knives or removing the most difficult to remove stains. You will need to use a cloth to really work this product into the steel, but I guarantee you won't be disappointed with your end result.

Cloth options: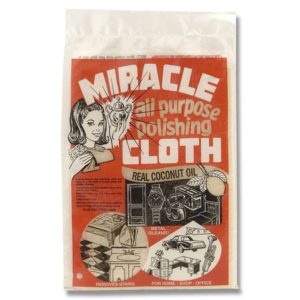 Cloths are the most basic tool a knife owner can have. If you look in my gun safe, I've probably got two cloths for each knife and gun. There are really two kinds of cloths on the market to look out for, those that are treated and those that aren't.
Miracle All Purpose Polishing Cloth
Item number: SM2000 Price: $3.99
The Miracle All Purpose Polishing Cloth is more than just an average cloth. It's infused with different oils that will actually shine the metal as you wipe it off. These are great for people that don't want to fool with different oils and pastes and would rather just wipe the blade down with nothing. They are very handy to keep around, especially on the go if you leave your polish at home.

Standard Polishing Cloths
Item number: PM990004 Price: $1.99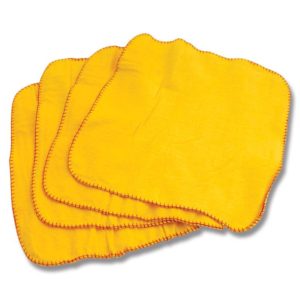 Ah yes, Standard Polishing Cloths. These are pretty straight forward, so I'll save you an explanation. This set comes with four cloths for $1.99. They are great to use with Case Paste and other cleaning solvents. I even use some of these cloths to detail my car. You can never have too many laying around.