The Spyderco H03 Warrior Hawk Tomahawk is an all new design from Laci Szabo. Szabo drew from his extensive martial arts, military, and law enforcement experience to create a versatile hawk that can handle anything. Spyderco's production of the H03 Warrior Hawk means this capable design is paired with the quality construction Spyderco is known for. If you're a tomahawk fan, you certainly don't want to overlook the new Spyderco H03 Warrior Hawk.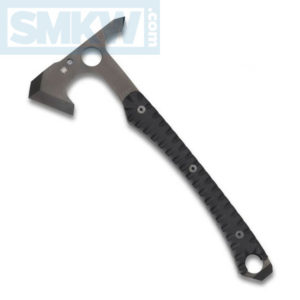 One thing that stands out on this model is the faceted D2 cutting edge. The faceted design helps the blade gain penetration which can be useful if you throw your hawks. This design also excels at chopping and splitting tasks. The reverse side of the head features a powerful spike that can do anything from break glass to punch holes in solid ice. Whether you're rescuing someone from a locked car or pulling yourself out of a frozen lake, the H03 Warrior Hawk's blade is useful. Just remember that D2 is a semi-stainless steel Even though it has a black Titanium Carbonitride coating, be sure to clean and oil the blade from time to time.
This model features G-10 scales attached to a full-tang handle. The G-10 has been machined to provide better grip in wet situations. The scales are attached to the handle via triple reinforcement screws. The H03 Warrior Hawk has an extended tang that serves as a pry-bar and a lanyard hole attachment. This allows you to pry with the hawk without damaging the blade. Spyderco also includes a custom molded Boltaron sheath. Its form-fitted to the head for a secure hold and features metal lined eyelets that allows versatile mounting.
Spyderco H03 Warrior Hawk Details:
D2 Tool Steel construction
Black titanium carbonitride (TiCN) coating
Machine grooved G-10 scales
Axe head with faceted cutting edge
Rear spike
Pry-bar handle tip with Lanyard hole
Custom molded Boltaron sheath included
31.0oz Total weight with sheath
13.68″ Total length
5.88″ Blade length
The new Spyderco H03 Warrior Hawk tomahawk is a versatile tool for any situation. Spyderco is selling this tool for $479.95, but we found it for $311.97. You can find more information about this axe and its per-ordering by clicking the button below.