The Spyderco Pygmy Warrior is a more compact and easier-to-carry take on the legendary Spyderco Warrior. Bob Taylor, a combat veteran and lifelong martial artist, designed the Pygmy Warrior to be effective in any scenario. Taylor's capable design mixed with Spydero's premium materials makes for a knife that is definitely not your standard Spyderco.
The CTS BD1 blade is stainless and features a full-tang construction. To help protect the blade from the hostile conditions, Spyderco added a non-reflective diamond-like carbon (DLC) coating. The unique blade design is what really makes the Pygmy Warrior stand out from others in the Spyderco lineup.
Spyderco tell us, " The curve of the blade is computer optimized to match the natural arc of motion of the human arm. It ensures maximum energy transfer during a thrust. An aggressive series of saw-teeth on the back of the blade also provide extreme traction when used with reverse-grip trapping and hooking techniques."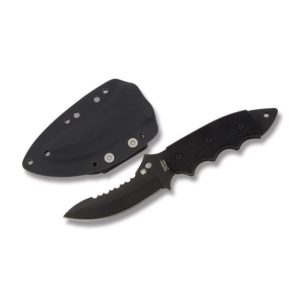 Next to the blade, one of the Pygmy's most distinctive features is its "stackable" handle construction. It consists of two outer scales and two spacers that allow you to adjust the grip to your hand. The G-10 scales are both durable and lightweight. They are machined with a series of finger-holds that allow for a firm grip when thrusting. Spyderco secures the scales to the tang using a reinforced triple hex screw design. The handle is similar to the blade in regard to its ability to handle almost anything.
Spyderco includes a custom-molded Boltaron sheath equipped with a versatile G-Clip attachment. The G-Clip is angle-adjustable on your belt and allows for an inside-the-waistband concealed carry. This knife also includes a copy of the book "The Warrior Path." This book traces the history of the Warrior Knife's evolution and has been revised and updated to include the Pygmy Warrior story.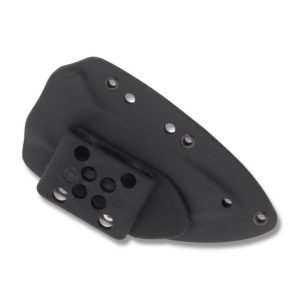 Spyderco Pygmy Warrior details:
CTS BD1 blade
Sawback spine.
Full-tang construction.
DLC Black coating
G-10 Handles
Lanyard hole
4 3/4″ Drop point blade
7/8″ Blade width
1/8″ Blade thickness
9 3/16″ Overall length
Custom-molded Boltaron sheath
  G-clip attachment included
Made in the U.S.A.
The Spyderco Pygmy Warrior is one of the most versatile combat knives on the market. There is a lot of research behind the blade design to ensure you have one of the most effective combat tools on the market. One thing is for sure, the Pygmy Warrior isn't your standard Spyderco. You can find this knife by clicking any of the links in this article or by clicking the button below.