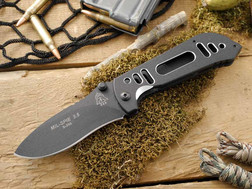 The TOPS MIL-SPIE 3.5 Folding Knives might not be the most durable American folders, but they've got to be in the top ten. TOPS has done well in the survival and outdoor knife market, they are an industry standard for many military, police, and rescue workers. The MIL-SPIE 3.5 Folding Knives are perfect for those who love the strength and durability of a TOPS fixed blade, but like the easy to carry and conceal size of a pocket knife.
The name MIL-SPIE is an acronym from the department of defense. MIL-SPIE stands for (Military-Special Projects Individual Equipment) The goal of this program was to allow and encourage special forces members to develop, test, evaluate, and acquire "out of the ordinary" equipment. TOPS Knives are often approached by individual operators who advise them of their unit or team's needs. The challenge with the MIL-SPIE was to develop a small knife with a narrow carrying profile, it had to be strong and light in weight. With this criteria in mind TOPS created and named the Mil-SPIE series of knives. The success of their Mil-SPIE 3 and Mil-SPIE 5 fixed blade paved the way for their latest folders.
The N690Co Stainless Steel blade comes with a black or coyote tan finish. N690Co is very similar to 440C steel, but features a higher cobalt and vanadium percentage that makes it a higher quality alloy. It's very rust resistant, incredibly hard, and about as difficult to sharpen as AUS-8. This gives you an edge that will last in the field, and remain easy enough to maintain and sharpen on the go. The 3.5″ drop point blade is a versatile design that's great for accomplishing everything from EDC tasks to being tossed in a tool box and used hard. The ambidextrous thumb studs make this knife easy to manipulate and open single-handedly.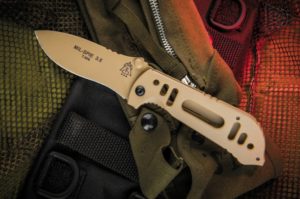 The T60-61 aluminum handle is a lower weight option that doesn't sacrifice durability. The carefully machined bevel accents help reduce weight and add a touch of design to the handle. TOPS did a great job skeletonizing this handle while leaving enough meat for a durable linerlock mechanism. The handle comes in a black or coyote tan finish that matches the colors of the blade coating. You can can easily carry and conceal the MIL-SPIE 3.5 using its tip-up pocket clip. Its overall closed length is just 4.5″ which makes it comfortable to carry – even in tighter pants.
TOPS includes a carrying case, survival whistle, and warranty and care information. These knives are proudly made in the United States and are held to the highest standards of quality control. TOPS folding knives are guaranteed to be free from defects in materials and workmanship for five years after purchase.
Tops MIL-SPIE 3.5 Folding Knife Details:
Coyote Tan/ Black Traction blade coating
N690Co Stainless steel blade
T60-61 Aluminum handle
Tip-up Pocket clip
3 1/2″ Drop point blade
1/8″ Blade thickness
4 1/2″ Closed
Carrying case
Survival whistle
Made in the U.S.A.
5-year warranty
The Tops MIL-SPIE 3.5 Folding Knives are some of the most durable on the market. These knives feature premium steel blades that hold a great edge while remaining easy to sharpen. Their T60-61 aluminum handles are lightweight but don't sacrifice overall durability. You can find these knives by clicking any link in this article or by clicking the button below.