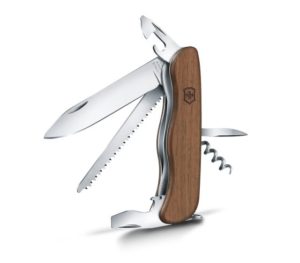 It's hard to knock the value of keeping a Swiss Army knife in your pocket or your pack at all times, and the walnut-handled Victorinox Forester is at home in the forest or the urban jungle. This 4.4″ tool features elegant walnut handle scales, an ergonomic handle shape, and most all of the tools you've come to expect in a mid-range Victorinox Swiss Army knife. Let's dig a little deeper.
Victorinox says about the Forester, "Although the forest is its natural habitat, our Forester Wood works just as effortlessly exploring the extremities of the urban jungle. The 10 fully integrated functions include a screwdriver, large locking blade and wood saw. Crafted in beautiful walnut, the scales reflect this large pocket knife's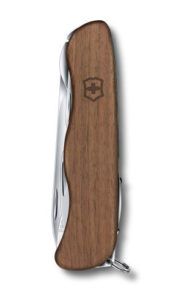 close affinity to nature." That's no spin. The Forester fits well in the pocket and in the hand. It features a large spear point blade with a liner locking mechanism, as well as a large saw blade. Beyond the two main blades, the Forester features a bottle opener, a 5mm lockable screwdriver, a wire stripper, a can opener, a 3mm screwdriver, a reamer/punch, a corkscrew, and a key ring.
This Victorinox Swiss Army knife will get the job done no matter what the environment, and frankly the walnut handles look amazing. We like the size, feel and look of the handles. It stands out from the standard red composite handles of most other Swiss Army products, but still has all the benefits.
Victorinox Forester with Walnut Handles Details
Stainless steel blades and tools
Locking Spear Point Blade
Wood Saw
Elegant walnut handle scales
Bottle opener
Small and large screwdrivers (one lockable)
Wire stripper
Can opener
Reamer/punch
Corkscrew
Key ring
Blade thickness: 1/16″
4.4″ closed
Made in Switzerland
The walnut-handles Victorinox Forester is available online for just under $60. If you're interested in purchasing one of these gorgeous Swiss Army knives, simply click any link in this article or the button below.