There aren't many nostalgic knives as beautiful as the Hen & Rooster Coon Hunter Congress. This knife features classic stag handles, beautiful reverse frosted etches, and hand-forged blades. Craftsmanship of this caliber is becoming a thing of the past within the knife industry. If you're a fan of that old-school German quality, this isn't a knife you want to pass up.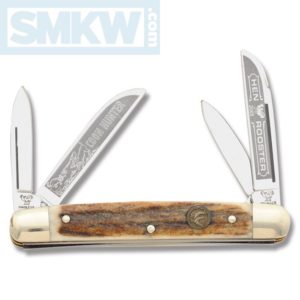 Since the early 1800's, the congress has been a popular pattern for the working man. The congress features two pen blades and two sheepsfoot blades offset from each other. The idea behind this pattern was to allow the working man could go twice as long without having to resharpen his knife.
The Hen & Rooster Coon Hunter Congress is no different, it features two 1-1/2″ pen blades and two 2-1/2″ Sheepsfoot blades. The blades are hand-forged much like the original knives, but these are forged from modern stainless steel. This allows the blades to hold an edge and resist rust far better than classic carbon bladed knives.
Hen & Rooster went the extra mile by decorating the main blades with frosted blade etches. One blade says, "Hen & Rooster" and the other "Coon Hunter" with an image of a coon and hunting dog.
The handles also showcase the craftsmanship Hen & Rooster builds into their knives. The genuine stag handles feature an expert cut that provides a tight fit and quality alignment. The rich texture shows a beautiful gradient of colors from natural white to dark brown and even black in the deepest sections. Since each handle is crafted from genuine stag, each handle will be unique, with no two being alike (as seen in this articles images).
The stag is flanked by polished nickel silver bolsters, and even the pins are polished nickel silver. However, my favorite detail is the antique shield. The small antique brass shield is one fine detail that shouldn't be overlooked. It features the Hen & Rooster logo and looks like it's aged just to perfect this knife's nostalgic appearance.
Hen & Rooster Coon Hunter Congress Details:
Hand forged stainless steel blades
Reverse frosted blade etches
Genuine stag handle
Brass liners
Nickel silver pins and bolsters
Antique brass shield
1-1/2″ Pen blades
2-1/2″ Sheepfoot blades
3-5/8″ Closed length
Made in Germany
The traditional quality and appearance found on the Hen & Rooster Coon Hunter Congress makes it worth every penny. If you're an owner of all modern knives, the Coon Hunter Congress is certainly a breath of fresh air. You can find this knife by clicking any of the links in the article or by clicking the button below.