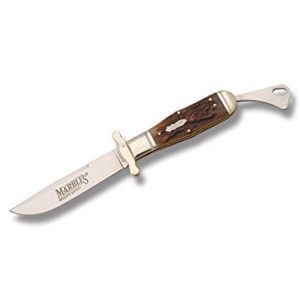 The Marble's Safety Folder is a real blast from the past. Since the turn of the last century, Marbles has been pioneering ways to make your tools safer. They are most known for their Safety Axe, but they also made a Safety Folder. It's one-of-a kind design makes a great beginner's knife or conversation starter for those who have been collecting for years.
The unique locking system makes this knife safe. When the blade is closed, it's actually longer than the handle. The protruding blade is covered by a metal tab that makes it safe to carry. When you open the knife, the metal tab folds into the handle which locks the blade open and gives you a finger grove for extra grip.
The base of the blade also features a pop-up safety guard. When the blade is closed, the guard actually folds down with the blade to streamline the shape. It's an ingenious design that bridges the gap between a fixed blade knife and a folder.

Marble's used both modern and traditional materials when making the Safety Folder. The 440A stainless steel blade is a more modern stainless steel. It's incredibly rust resistant and holds an edge for a long time. It can be difficult to sharpen, but it's not a big deal if you use diamond stones.
The handle is where the "traditional" materials come in. This knife features brown stag bone handles with brass pins and liners. The bone used is rich in texture and features a gradient of color that runs from light to dark brown. It also features nickel silver bolsters and swing guard. The design is very classic but perfected by modern machining capabilities.
Marble's Safety Folder Details:
440A Stainless steel blade
Brown stag bone handle
Brass pins and liners
Nickel silver bolsters and Swing guard
Stainless steel safety component
5″ Blade length.
6 3/8″ Closed length
Zippered storage pouch included
Overall, The Marble's Safety Folder is a blast from the past. This traditional design is not only interesting, but competently functional too. Whether you're looking for a safe beginner's knife or an interesting conversation piece, the Marble's Safety Folder is a great option to look at. You can find this knife by clicking any of the links in this article or by clicking the button below.