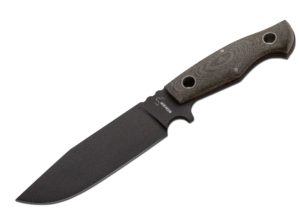 The Boker Plus Rold is a balanced camp knife that shows the experience of designer Jesper Voxnaes. This knife was designed to bridge the gap between your small campsite knife and your heavy duty bushcrafting knife. When people think of great bushcrafting knives, they usually think ESEE, TOPS, Condor, or Camillus. The Rold presents a strong argument that Boker Plus is a competitor too.
The D2 tool steel construction is what makes this knife a great bushcrafting blade. The steel is durable and naturally rust resistant. Though it doesn't need it, the Rold also features an epoxy powder coating.
This additional layer of protection almost provides a 100% effective shield against rust. The blades modern clip point design also includes some useful features that other companies don't always add. The belly of the blade features an index finger choil that allows you to choke up on the blade. This allows you to do more finesse and accurate cutting, regardless of the blade length.
Boker Plus also added a section of jimping on the spine that gives your thumb a natural place to rest and gives you a grip for bearing down on the blade. This enables you to cut through more difficult substances like wood safely.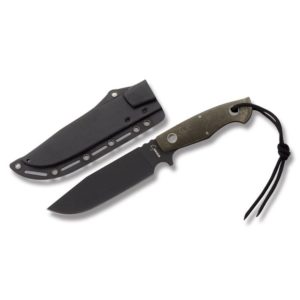 The handle is not only attractive, it's also 100% functional. The sand blasted canvas micarta scales are durable and offer ample grip in any conditions. Boker Plus even threw in some red spacers to add a traditional touch of craftsmanship to the handle.
The Micarta is attached to the full tang via stainless steel pins and rivet tubes. The rivet tubes make a fantastic lanyard hole or way to make your own paracord hand-guard. The Rold comes with a paracord wrist lanyard in the box, but you can remove it and install whatever setup you prefer.
This model comes with a Tek-Lok compatible Kydex sheath. Kydex is a great option for bushcrafting knives since its rugged and not effected by the elements. The design of the sheath includes metal eyelets and other holes for versatile mounting to any of your existing gear. The included Tek-Lok makes this sheath MOLLE compatible and gives you a secondary layer of security for attaching the knife.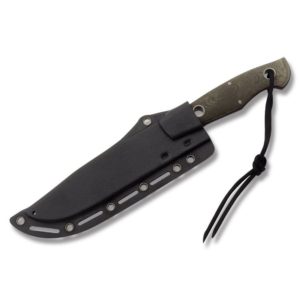 Boker Plus Rold Details:
D2 tool steel blade
Full-tang design
Thumb ridge
Index finger choil
Epoxy powder coating
Sand blasted canvas micarta handle scales
Red fiber spacer accents
Stainless steel pins and rivet tubes
Paracord lanyard
Molded kydex sheath with belt attachment
6 1/4″ Clip point blade
1 9/16″ Blade width
3/16″ Blade thickness
11″ Overall length
Overall, the Boker Plus Rold is a worthy competitor in the outdoor knife market. It's a balanced camp knife that can handle both finesse and brute tasks. You can find this knife by clicking any link in this article or by simply clicking the button below.