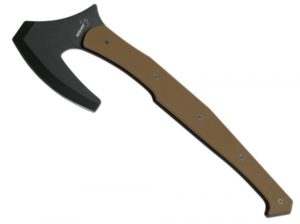 The Boker Plus Tomahook is a unique take on a classic tomahawk. Designer Colin Despins is the brain behind this unique tool. Despins tells us, "The design of the Tomahook was influenced by the Celts, Vikings and Native Americans, offering a high degree of functionality thanks to its versatility."
The Tomahook's shape allows it to be used in more ways than a standard hatchet. The upper end of the head comes to a sharpened chisel tip. Boker says, "The knife-like edge can even be used to skin and dismember wild game in case of emergency." The back of the head features a rounded tip that can be used as a glass breaker or general purpose impact tool.
There is a recessed grip behind the head that makes a variety of finer cutting work possible. This recessed area can also be used as a hook in various situations. Personally, I'd use this area to keep a section of paracord wrapping.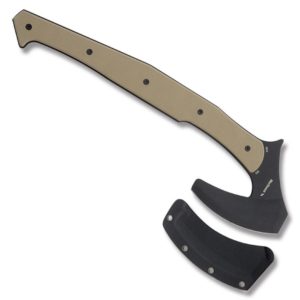 Japanese SK-5 steel is a modern carbon steel. Large knives as well as tomahawks and axes typically favor steels with the same properties as SK-5. Its hardness grade is 57-60 HRC which can be difficult to sharpen, but it does have fantastic edge retention. The carbon steel comes with a protective black coating that helps prevent corrosion. It's an ideal steel for such a versatile tool.
The recessed G10 scales used on the Tomahook allow for a firm and comfortable hold. Five hex-head screws secure the material to the full tang. It's a durable design that's easy to clean and maintain.
The included Kydex sheath even sports a special design. While in place, the sheath won't effect the function of the hook, impact tool. Other axe sheaths on the market tend to cover the whole head, and that just makes rapid deployment inconvenient. The sheath also features metal eyelets that allows for multiple mounting options.
Boker Plus Tomahook Details:
SK5 Carbon Steel construction
Full tang design
Corrosion resistant coating
Glass breaker/pounding tool
Chisel tool
Fine cutting edge
Recessed hook
Recessed G-10 handle scales
5 5/8″ Cutting edge
3/16″ Thickness
5 1/2″ Width
18 1/8″ overall length
Specially designed Kydex sheath included
The Boker Plus Tomahook is a versatile tool that's good at wide array of tasks. Boker says, "It's A high-class tactical tool with a plethora of options!" If you want the most functionality for your money, the Tomahook isn't a bad option to consider. You can find it by clicking any of the links in this article or by clicking the button below.