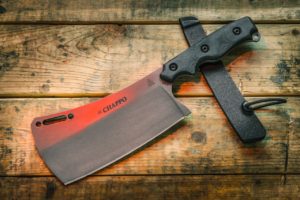 Breaking News – Ucon, Idaho – TOPS releases the new TOPS El Chappo. The El Chappo is a multi-purpose cleaver that is the cross between a quality bushcrafting knife and a kitchen knife. For those who process wild game on scene, prepare meals camp-side, or just want to bring a touch of bushcrafting into their home kitchen, this is the knife to get excited about.
TOPS says, "It Chops and…Chops" and that's the best way to describe the new El Chappo. It's a new cleaver that's useful in the field and kitchen. TOPS isn't new to dual purpose kitchen cutlery, they have enjoyed success with their FMS knives and are also debuting a new chef's knife later this year. Because of this, TOPS President Leo Espinoza, decided that the time for a new dual purpose chopper was here.
With a cutting edge that measures in at just under 6″ and a 3/16″ blade thickness, this cleaver is more capable than most – from chopping vegetables in your kitchen to processing that fresh wild game around the camp fire.
El Chappo Details:
11″ Overall Length
6″ Blade Length
5.88″ Cutting Edge
0.19″ Blade Thickness
1095 Carbon steel blade
56-58 Hardness
Acid Rain blade finish
Black Canvas Micarta handles
15.9oz Overall weight
Black Kydex sheath included (blade cover only)
The TOPS El Chappo is a fantastic tool that gives you a lot of capability for your money. You can find the El Chappo by clicking any of the links in this article or by simply clicking the button below.