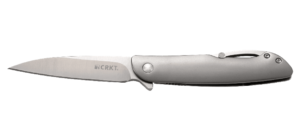 The CRKT Swindle is exactly what you'd expect from a Ken Onion design. It's sleek, modern, and operates with a smoothness that's difficult to put into words. However, the action isn't the only charm the Swindle has to offer. The design as a whole is full of small features that improve cutting capabilities and ergonomics. CRKT and Ken Onion really made a knife that is an absolute joy to carry and use.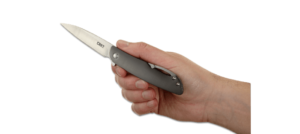 The high performance of the blade comes from a combination of its steel and shape. It's a modified Wharncliffe design that gives you a long cutting edge that tapers down to a fine point. This allows you to get the most cutting edge out of your blade while still having a fine tip for precision cutting. The blade is made from 8Cr18MoV stainless steel which is commonly found in heavy-duty tools. This steel has the strength to handle almost any task that you could throw at it. I'm not saying that you could pry open a car door, but you will be impressed with how it handles a hard day at work.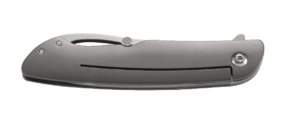 An IKBS pivot system is responsible for the opening action. In conjunction with the flipper, this system provides a smooth, consistent opening action every time. The handle and framelock mechanism are 2CR13 stainless steel. This provides the knife with plenty of strength and durability while maintaining a low overall weight.
The spine of the handle features a spring-tensioned pocket clip. The clip is located on the spine so that it's ambidextrous for the user's preference. With all of these features, the Swindle still weighs in at just under 4oz. It's beefy enough to get the job done and light/thin enough to be comfortably carried.
The Swindle comes with a smooth handle, but you can also purchase a Swindle with a grooved handle design (for a slightly higher price).
CRKT Swindle Details:
8Cr14MoV stainless steel blade
Flipper extension
IKBS blade pivot system
Anodized 2CR13 stainless steel handle
Spring tensioned pocketclip
3-1/4″ Modified Wharncliffe blade
4-1/4″ Closed length
The CRKT Swindle could easily be mistaken for a much more expensive knife. It's the type of knife you expect from a legendary designer like Ken Onion. You can find the Swindle by clicking any of the links in this article or by clicking the button below.