Unless you live under a rock, you know St. Patrick's Day is a yearly celebration held on March 17th. The celebration honors the death of Saint Patrick – the foremost patron saint of Ireland. It's a time to get decked out in green and pinch anyone who isn't. If you don't look good in green, here are five green knives that can get you off the hook.
Spyderco Delica 4
Item# SPC11PSFG Price: $74.72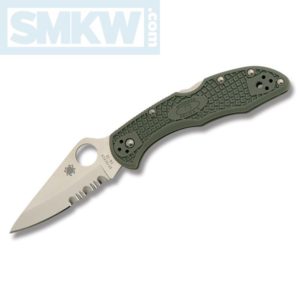 The Spyderco Delica 4 was based on the background green found on the U.S. Army's digital camouflage. It's a foliage green FRN handle featuring Spyderco's standard grip pattern. This model comes with a satin coated VG-10 blade that includes their trademark Spyder Hole. This particular blade is half serrated for increased versatility and cutting capability. The Delica 4 is a great everyday carry design that can be practical in about any situation.
Spyderco Delica 4 Details:
Lockback Design
VG-10 stainless steel blade
Thumb hole
Textured Foliage Green FRN handle
Lanyard hole
Black coated pocket clip
2-7/8″ Clip blade
4-1/4″ Closed length
Made in Japan

Morakniv Kansbol Multi-Mount Fixed blade
Item# FS12645 Price: $59.99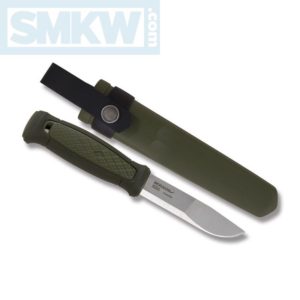 The Morakniv Kansbol Multi-Mount Fixed Blade is a bushcrafting monster. It features a 4-3/8″ stainless steel blade designed to handle anything from making wood splints for the fire or skinning an animal out in the field. The OD green handle is coated with ribber for improved grip in any weather conditions. It's a multi-mount fixed blade because of its sheath. It comes with a special attachment that allows you to carry it almost any way you like. This versatility allows it to be mounted to your leg, boot, pack, vest, belt, and much more.
Morakniv Kansbol Multi-Mount Fixed Blade Details:
Satin coated stainless steel blade
OD green rubber handle
Full tang construction
OD Green multi-mount sheath.
4-3/8″ Clip point blade
1/8″ Blade thickness
8-15/16″ Overall length
Made in Sweden

Benchmade Griptillian
Item# BM550BKHGOD Price: $114.75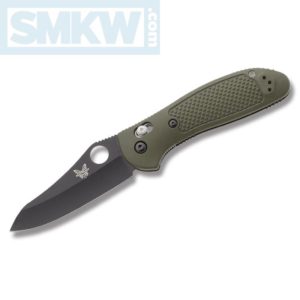 The Benchmade Griptillian is the workhorse of the Benchmade lineup. This knife is notably one of the most well-rounded blades made by the company. It features a 154CM stainless steel blade on green grivory handles. Both the 154CM and grivory are durable enough for a hard day's work. This knife uses Benchmade's popular AXIS lock mechanism. It's one of the best locking mechanisms in the industry and will ensure the blade wont collapse under normal use. The Griptillian is a good-looking knife that can handle almost anything you throw at it.
Benchmade Griptillian Details:
154CM stainless steel blade
Thumb hole
AXIS locking mechanism
Green grivory handle
Reversible pocket clip
Lanyard hole
3-1/2″ Blade length
4-5/8″ Closed length
Made in the U.S.A.

Kershaw Emmerson CQC-5K
Item# KS6074OLBLK Price: $39.99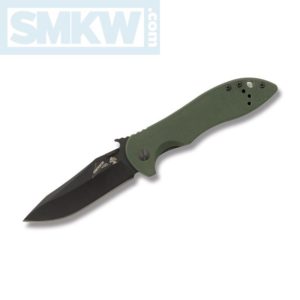 The Kershaw Emmerson CQC-5K happens to be one of the most affordable Emmerson design knives on the market. This knife features a black coated 8Cr13MoV stainless steel blade. It's fairly easy to open with its thumb disk design, but it also includes the Emmerson wave opening system. The wave system opens the knife for you when you pull it from your pocket. The handles are made from durable G-10 covering a 410 stainless steel frame. It's a very durable knife for the retail price.
Kershaw Emmerson CQC-5K Details:
Black epoxy coated 8Cr13MoV stainless steel blade
Thumb disk and Emmerson Wave system
G-10 scales over a 410 stainless steel frame
Ambidextrous tip-up pocket clip
Lanyard hole
3″ Blade length
4-1/8″ Closed length

Case Trapper
Item# CA9720 Price: $55.99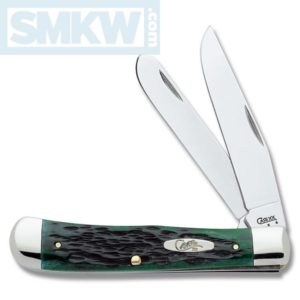 The Case Trapper is a legendary knife to enthusiasts all over the world. This particular model comes from their Pocket Worn series. The knives in this series are subject to extra hand finishing at the factory. This extra finishing is to make them appear worn and carried without waiting years for the perfect patina. This model comes with premium worn Bermuda green bone handles. The bolsters and shield are made from polished nickel silver. Like most Case knives, this trapper features polished Tru-Sharp stainless steel blades. This is one knife that can handle EDC tasks or the display case.
Case Trapper Details:
Tru-Sharp surgical steel blades
Pocket Worn Bermuda Green bone handle
Brass pins and liners
Nickel silver bolsters and shield
3-1/8″ Clip point and Spey blades
4-1/8″ Closed length
Made in the U.S.A.