The Buck Folding Selkirk is one of the most interesting knives in Buck's lineup. It's a survival knife with features you'd expect to find on a TOPS knife, but it's a folder that can be carried every day. This puts the Folding Selkirk in an odd place between survival knife and EDC, and we love it.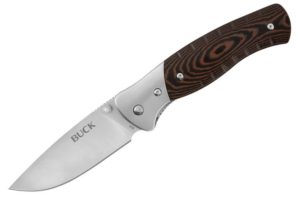 To start out with the basics, the Buck Folding Selkirk features a 4″ drop point blade. It's a capable blade shape that's versatile for use in many situations. It's a 420HC stainless steel blade which gives you some attractive characteristics for this type of knife. 420HC stainless steel blades are corrosion resistant, have good edge retention, and are hard enough to cut through most mediums.
The blade locks into place using a linerlock mechanism. Sharpening this blade can be difficult without the proper equipment. If you haven't invested in diamond stones, you might want to pick one up for this knife.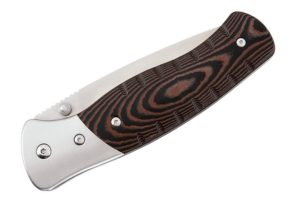 The brown and black micarta handles are CNC contoured. This gives the handle a natural rounded shape that fits well in hand. It's also machined with a grip texture around the edges of the handle which display an extra touch of craftsmanship. The front of the handle features a stainless steel bolster for extra reinforcement on the pivot point. It's a durable handle design that's both attractive and practical.
The blade and handle would make this a solid survival knife, but it doesn't really stand out more than any other well-built pocketknife. The difference is in the included equipment that comes with the Folding Selkirk. It comes with an injection molded nylon sheath that can be worn vertically or horizontally. This allows for versatile mounting and a comfortable carry. It also comes with a ferrocerium striker with whistle integrated in the plastic grip. The striker has its own slot in the sheath so it can be carried with the knife wherever you go.
Buck Folding Selkirk Details:
420HC stainless steel blade
Brown and black CNC contoured micarta handle
Thumb stud
Steel bolsters
4″ Drop point blade
5″ Closed Length
Injection molded nylon sheath included
2-1/4″ ferrocerium striker
Integrated survival whistle
The Buck Folding Selkirk is a versatile EDC/survival knife. This dual-purpose knife is a great investment for those who always want to be ready for anything. The Folding Selkirk is certainly a knife to look at before you kick off your summer adventures. You can find it by clicking any of the links in this article or by clicking the button below.