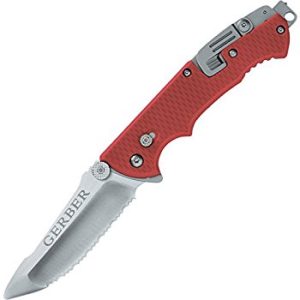 The Gerber Hinderer Rescue Linerlock is a versatile rescue tool designed by Rick Hinderer. The Rescue Linerlock is one of those knives where even the finest details serve a purpose. From the enlarged thumb studs to the tool kit, not a single feature is just for show. If you're military, Police, or EMT, this knife would make a valuable addition to your kit.
The 440A stainless steel blade is designed to cut through almost anything. Cutting through wet cloth/rope is a nightmare to rescue workers, it's a challenging task that tests even the sharpest blades. The Rescue Linerlock was designed with a serrated edge that leads to a standard tip just to make this task easier. This allows you to cut through difficult substances while keeping the ability to precision cut. To make this knife more usable to those who wear gloves, the blade features oversized thumb studs. The idea behind this was to make the knife easier to deploy for firefighters or military members wearing combat gloves.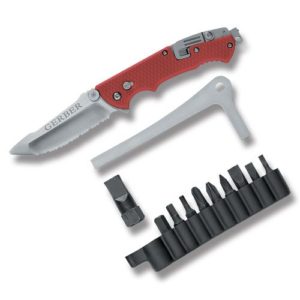 The fiberglass reinforced nylon handles are just as versatile as the blade. They are bright red in color for easier visibility in the field. It's an ergonomic design with a molded grip texture that helps in wet or muddy environments. The handle hides and integrated strap cutter and oxygen tank wrench. The base of the handle features a glass breaker and lanyard hole for functionality. These features cut down on the total amount of gear carried by rescue personnel.
This knife may be versatile, but it's not a multi-tool like some rescue workers prefer. To solve this, Gerber added a compete nine-piece tool set with the knife. This tool set features different screwdrivers and drives that fit in the included sheath. The nylon sheath is both durable and lightweight. You can carry your knife and tool set in confidence with this ballistic nylon belt sheath.
Gerber Hinderer Rescue Linerlock Details:
440A stainless blade
Partially serrated blade
Oversized thumb studs
Red fiberglass reinforced nylon handle
  Strap/Seatbelt cutter
Window punch
Oxygen tank wrench
Pocket clip
Lanyard hole
3″ Blade length
5 1/8″ Closed length
Nine-piece tool kit included
Ballistic nylon belt sheath included
The Gerber Hinderer Rescue Linerlock is the type of tool rescue personnel look for. Not only is it durable and full of features, but its also affordable and comes with a great warranty. You can find this knife by clicking any of the links in this article or by simply clicking the button below.