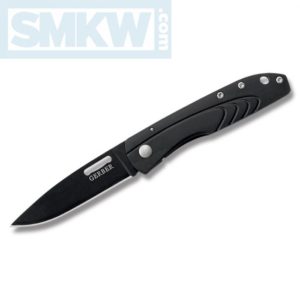 The Gerber STL 2.0 Linerlock features some impressive characteristics. It's no thicker than three quarters stacked together and weighs just over an ounce. Typically, thin and lightweight pocket knives aren't the strongest blades out there. They tend to be more fragile than other beefier designs. The Gerber STL 2.0 Linerlock is one of the rare exceptions to that statement. "STL" is an acronym that stands for strong, thin, and lightweight.
The blade is a traditional clip point design with a thumb hole for easy opening. It makes the design ambidextrous and comfortable righties and lefties. The durable 440A stainless steel blade has some strong pro's and con's. 440A holds and edge really well, is great at resisting rust, and makes the knife affordable. The drawback is that 440A can be difficult to sharpen.
The stainless steel handle is both durable and lightweight. Gerber coated the handle with a protective titanium PVD coating. This protects the handle from moisture and other elements that might damage the handle. It's also machined to include a grip texture that improves overall grip.
The STL 2.0 is a classic linerlock design which is housed in the belly of the handle. The base of the handle includes a lanyard hole for easy attachment of a lanyard or key-ring.
Gerber STL 2.0 Linerlock Details:
Black coated 440A stainless steel blade
Drop point design
Thumb hole
Stainless steel handle with titanium PVD coating
Linerlock
Lanyard hole
2″ Blade length
3″ Closed length
The Gerber STL 2.0 Linerlock makes for one tough EDC. It's 440A stainless steel blade and stainless steel handle are both durable and lightweight. However, the best part of the STL 2.0 is its $11.99 price tag.  You'd be hard pressed to find another quality knife as thin and light as the STL 2.0. You can find this knife by clicking any link in this article or by clicking the button below.