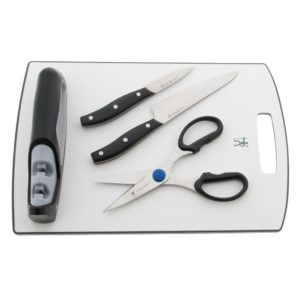 The J.A. Henckels International Definition 5 Piece Prep Set is a great entry-level kit for your kitchen. As chefs develop their own personal skill, prep work becomes ever more important. This set includes five different tools that are useful on your prep counter. J.A. Henckels is a brand that's trusted by many, and the International Definition 5 Piece Prep Set is sure to be a valuable asset.
This prep set features a paring knife and a prep knife. The paring knife is great for peeling fruits and vegetables, slicing a single garlic clove or shallot, controlled, detailed cutting, such as cutting shapes or vents into dough, and scoring designs and patterns on surfaces of food.
The prep knife is a versatile tool in professional kitchens. They offer the balance of a chef's knife, a utility knife's precision edge, and a paring knife's impressive maneuverability. Between these two knives, there isn't much that can't be accomplished before your meal is ready to be served.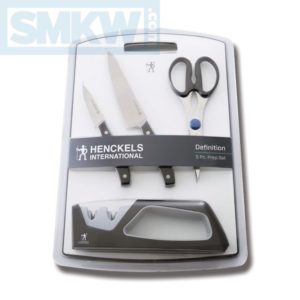 Both of these knives feature stainless steel blades. They hold and edge incredibly well, but more importantly, they are dishwasher safe. The black handles are a durable a composite construction that's shaped for comfortable grip. Both of these knives feature a full tang construction that ensures they will hold up to their intended function for years to come.
The prep set is much more than just two knives. This set also includes a set of cutting shears used for snipping herbs, cutting open food packaging, and breaking down poultry. This keeps you from using your knives for things other than their intended purpose.
Beyond that, the set includes a pull through sharpener to keep your blades in top shape. It's a fool proof method and can easily be used by those who may lack the experience required to use more traditional sharpening methods.
And last but not least, this set includes a composite cutting board.
The J.A. Henckels International Definition 5 Piece Prep Set Details:
Stainless steel blades
Black composite handles
Full tang construction
3″ Paring knife
5.5″ Prep knife
Cutting shears
Pull through knife sharpener included
Cutting board included
Dishwasher safe
All in all, the J.A. Henckels International Definition 5 Piece Prep Set is a great value. This set can be useful to a chef who is just starting out, or even a seasoned chef who needs to fill up space in their new kitchen block. Find this set by clicking any of the links in this article or by clicking the button below.