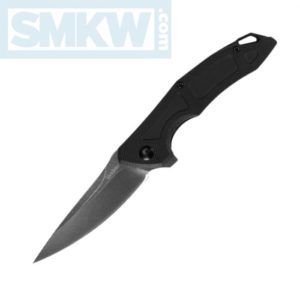 Kershaw bills the new Kershaw Method as, "Rugged, gentlemanly, and dead sexy." That may be a little over the top for a flipper folder, but frankly, we tend to agree with them. The Kershaw Method is 7.25″ of sleek goodness that will handle most all of your daily cutting tasks. Let's take a closer look.
It's sleek. There's not two ways about it, and this collaboration between Kershaw and Jens Anso is a bit smaller than other folders in this category. The 3″ 8Cr13MoV blade looks long and lean and sports a BlackWash finish. Its not assisted-opening, but opens quickly and easily with Kershaw's KVT ball-bearing system and flipper. Kershaw is known for their quick  action, and the Method does not disappoint.
Kershaw tells us, "The G10 handle features an unusual machined pattern reminiscent of an architectural truss. It not only looks good, but also offers additional grip security." The handle also features a custom back spacer with Anso's large lanyard attachment.
The Method locks up with a inset liner locking mechanism and helps keep the overall weight of the knife down. In fact, the Method weighs in at a measly 2.1oz.
The only drawback that we find in the Method is the single position pocket clip. While it is tip-up, it's made for righties. In the grand scheme of things, this isn't a deal breaker for the Method, as all the other features scream Kershaw (and that's a good thing).
Kershaw Method Details
BlackWash coated 8Cr13MoV stainless steel blade
Black 3D-machined G-10 handle
Linerlock
Blade flipper
KVT ball bearing system
Lanyard hole
Tip-up pocket clip
3″ drop point blade
Blade thickness: .125″
4.25″ closed
7.25″ overall
The new Kershaw Method would probably make an excellent EDC. At a price point just under $30, you can't beat it. If you're interested in getting one or learning more about it, simply click any link in this article or the button below.