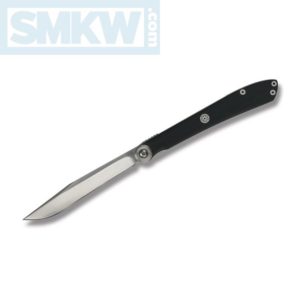 What do restaurant steak knives and butter knives have in common? They are both terrible at cutting steaks! The Kai Personal Steak Knife makes that struggle a thing of the past. This knife is a small personal dinner knife that you can carry to the table. No matter where you eat, you'll be guaranteed to have a sharp knife at the ready – no guarantees about the quality of your fork though.
The 420 J2 stainless steel blade is highly resistant to corrosion caused by contact with various foods. It's ground to a 16º cutting edge which is appropriate for most meats found on the dinner table. Kai even added a flipper for easy opening without having to touch the blade.
One of the most important parts of this knife is the locking mechanism. When cutting into a juicy steak, last thing you want is for your knife to accidentally fold closed. The Personal Steak Knife features a familiar linerlock mechanism that's easy to manipulate and keep clean.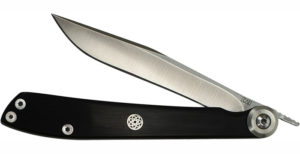 This knife comes with the same black POM handle used by some premium kitchen knife manufactures. The handle design is fairly basic, but it does include a mosaic pin.
Kai even includes a leather carrying pouch with the knife. This discreet pouch easily fits in your pocket or purse. This also keeps the knife clean and away from things like lint while you're carrying it.
Kai Personal Steak Knife Details:
420 J2 Stainless steel blade
Flipper mechanism
16º Cutting angle on each side
Linerlock design
Black POM handle
Mosaic shield
3-1/4″ Clip point blade
4-5/8″ Closed length
Leather storage pouch included
The Kai Personal Steak Knife might seem like a cute novelty, but it's actually really handy. Once you use it a few times, there's no going back. The only thing you have to worry about is keeping it clean and maybe throwing a hone on it every now and then. You can find it by clicking any of the links in this article or by simply clicking the button below.