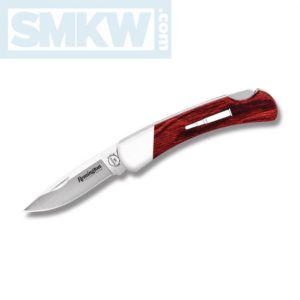 Remington's 2018 Bullet knives mark the 36th year of the series. With over three decades in production, this series is one of the longest running collectible series ever made. These knives are incredibly collectible, with some older models bringing north of $1,000 of resale value. Remington's Bullet Knives are a true  piece of Americana.
It's worth mentioning how fast these knives sell out. There were two different handle materials available on this year's knives. They made 250 elk horn models and 2000 red wood models. The 250 elk horn knives were limited to one knife per order and sold out within three weeks. There are still red wood models available (limited to three per order) but they are going quick.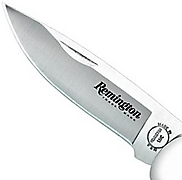 This knife features a clip point design made from durable 420 high carbon stainless steel. This steel is great at resisting the corrosion and tarnish that can plague collectible knives over the years. The blade features an embellishment of the Remington trade mark in a beautiful black script. It also features a special tang stamp that designates it as a genuine Remington knife made in the U.S.A.
The red wood handle is one of the highlights of this year's bullet knife. This wood has a vibrant color with dark grain patterns that display the cut of the wood. To accompany the wood, Remington added a polish nickel silver bolster and shield. These touches of polished nickel silver complement the blade and break up the wood from being too much. It's a traditional Lockback design with the button located near the base of the handle.
Remington 2018 Bullet Lockback Knife Details:
420 HC stainless steel blade
Clip point design
Remington embellishment
Special tang stamp
Red wood handle
Nickel silver bullet shield
2-3/4″ Blade length
4-1/4″ Closed length
Made in the U.S.A.
Remington's 2018 Bullet Knives are some of the most beautiful knives in the series so far. These knives aren't only beautiful, they are also made with the craftsmanship you'd expect from an American knife. Unfortunately, you can no longer order the elk handle model. But, you can order the red wood model by clicking any of the links in this article or by clicking the button below.