The Schrade Small Survival Axe is great survival axe for those on a budget. Its versatile design includes many useful features that are found on the large Schrade axe, but aren't typically found at this price point. This compact version could be the perfect small axe carry on your next outdoor adventure.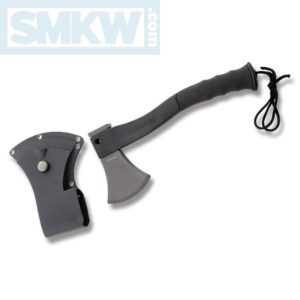 Like most axes, the Schrade Small Survival Axe is made from durable 3Cr13 steel. It holds an edge well and isn't too difficult to sharpen. It's a very middle-of-the-road steel that is hard enough to use as a hammer, but can be sharpened in the field.
The head is titanium coated for improved corrosion resistance – not that it needs it. In fact, 3Cr13 is so naturally corrosion resistant that it's one of the most commonly used metals for divers.
This axe head features a 3 3/4″ cutting edge with a hammer face on the reverse. This gives the head the capability of splitting wood with its blade or by using a wedge. The striking face opens up a whole new list of possible uses for the Schrade Small Survival Axe.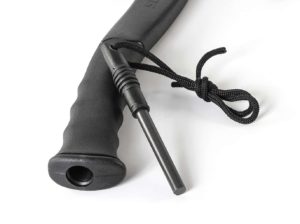 The handle is made from glass filled polyamide and thermoplastic rubber. These modern composite materials are not only extremely durable, they're also very lightweight and resistant to any weather conditions. This is a big benefit over traditional wood handles that can ruin when exposed to prolonged wet conditions.
The handle features a molded grip section that's ergonomic and allows for a firm grip in almost any situation. The base of the handle also includes a large fire striker hidden within it. This is great for starting fires on the go without carrying additional equipment.
Schrade includes a thermoplastic belt sheath with this axe. It's a lightweight and durable sheath that just snaps over the sheath. The single snap design is secure and lets you draw the axe with ease.
Schrade Small Axe Details:
3Cr13 stainless steel axe head
hammer face butt
Titanium blade coating
glass filled polyamide and thermoplastic rubber handle
Fire starter stored in handle
3 3/4″ Cutting edge.
12″ Overall length
Thermoplastic sheath included
The Schrade Small Sruvival Axe is a jack of all trades. Its versatile design that can cut down on the total amount of gear you need to carry. When you add its low $34.99 price point into the mix, you get an affordable axe that's great for beginners and more advanced users alike. You can find the Schrade Small Survival Axe by clicking any link in this article or by clicking the button below.