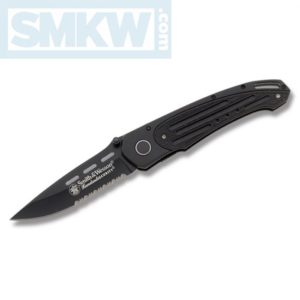 The Smith & Wesson Homeland Security is a good example of an affordable EDC. With a price tag below $15, it's a knife you can carry without fear. If you lose the knife or damage the blade, it's not going to break the bank to buy another. Since it's a Smith & Wesson, you also get a few tactical features that not only look good but also improve the knives performance. For less than $15, the Homeland Security is hard to beat.
The 7Cr17 stainless steel blade is a step above most other blades in this price range. It's a high carbon stainless steel that has pros and cons over other entry-level steels. 7Cr17 holds a fair edge and is a bit easier to sharpen than other stainless steels. Its carbon content also provides a bit more strength in the blade.
To protect the blade, Smith & Wesson also added a protective black coating to the steel. The partially serrated design of the blade gives the user plenty of versatility when using the blade. The fine tip is good for finesse cutting while the serrations are great for cutting rope and other straps. The blade features ambidextrous thumb studs for easy use in either hand.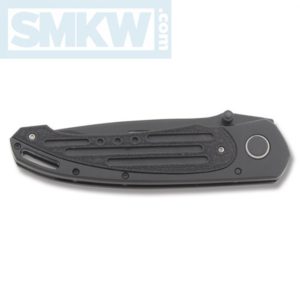 The aluminum handle was made to be lightweight and durable. The only drawback of an aluminum handle is that it can be slick and not provide a firm grip. Smith & Wesson solved this issue by adding a composition grip inlay on the handle. This inlay provides plenty of grip in wet conditions or while wearing gloves. The shape of the handle is fairly ergonomic with good access to the linerlock mechanism. With the added pocket clip and lanyard hole, the overall design of the handle is pretty decent for the price.
Smith & Wesson Homeland Security Details:
Black coated 7Cr17 stainless steel blade
Ambidextrous thumb studs
Linerlock design
Aluminum handle scales with composition grip inlay
Pocket clip
Lanyard hole
3-3/8″ Blade length
4-3/4″ Closed length
For less than $15, the Smith & Wesson Homeland Security is a great EDC knife. It's high carbon stainless steel blade and aluminum handle make it durable and resilient to hard use. You can find this knife by clicking any of the links in the article or by clicking the button below.