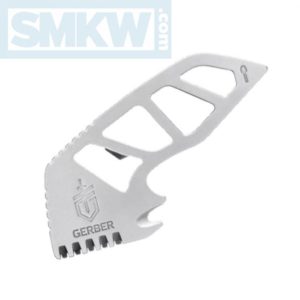 Gerber has eliminated some of the gear you take fishing by introducing a new 4-in-1 fish processing tool called the Gerber Gutsy. It's a compact fish processing tool that easily slips in your pocket. As Gerber tells us, "[we] gave the basic fish scaler a major overhaul. While most tools out there only focus on one area of processing a fish, the Gutsy provides four essential functions in one compact package."
First and foremost, the Gutsy is small. It can easily fit in your backpack or your back pocket. It's about 4″ long and fits easily in the hand. Its solid 5Cr13MoV construction comes with a silver or black-coated finish and features what Gerber likes to call Bearhand Control™, which delivers comfortable, ergonomic grip and confidence in hand.
The Gutsy features a scaler that is ground into the metal. This creates very sharp teeth that effectively remove fish scales with no wasted effort. The gut hook, Gerber tells us, is also ground directly into the tool. It's ultra sharp edge easily slides into the vent and opens just about any fish cavity.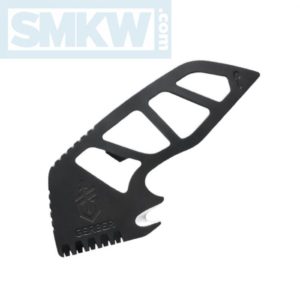 The Gutsy also features a scooper opposite the scaler. The point on the back of the tool easily removes any remaining veins without damaging the blade. The tool you'll probably use most if the fish aren't biting, Gerber added a bottle opener. "…For the celebratory beverage at the end of a long day," Gerber says.
Gerber says, "Not every fishing trip is planned, sometimes opportunity strikes when you least expect it. The Gutsy is slim enough to keep on hand for those "just in case" moments, and dependable enough to act as an all-in-one processing tool on the fly."
Gerber Gutsy Details
One-piece 5Cr13MoV stainless steel construction
Choice of Silver or Black Coated Finish
Scaler
Gut Hook
Scooper
Bottle Opener
The Gerber Gutsy is a handy tool for any fisherman, and at a price point of just under $20, it's an easy add to your tackle box or backpack. If your'e interested in learning more about the Gerber Gutsy, simply click any link in this article or the button below.