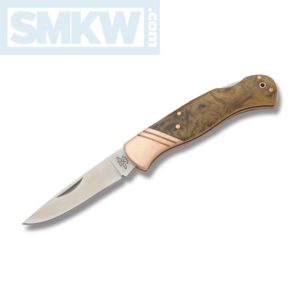 Old Forge produces the Old Forge Copper Fitted Series, a series of handsome copper-fitted knives at a very affordable price point. This series includes six different pocketknife patterns that begin at $6.99 and top out at $11.99. For the money, you can't beat their beautiful handles and wonderful fit and finish.
What makes these knives really stand out in a crowd of traditional pocketknives are the copper fitted bolsters. Copper tarnishes and patinas over time, so your the bolsters will begin to have a gorgeous worn-in, old world look as you carry them. And, if you want to let the process start again, a little polish will bring the copper back to it's original state. Old Forge also added copper pins and liners to the design to give the knives just an extra bit of detail.
The Copper Fitted Series knives all come with burl-wood handles. A burl is an irregular growth on a tree that takes years to develop. Inside of this growth is a wild and unpredictable grain pattern. It's this pattern that makes each knife unique – even in the same line. That means that your knife will not be like anyone else's.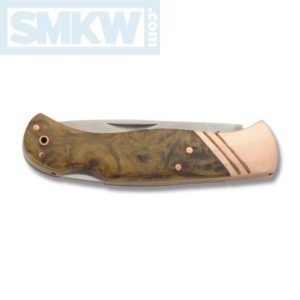 The series feature durable 440A stainless steel blades. It's cost effective, so while it holds an edge really well, it makes the knife far more affordable than knives with other blade steel. If you chip or break the blade, you can simply replace the knife without breaking the bank.
As mentioned before, this series is made up of six different knife patterns. You can get a Medium Lockback, Hawkbill, Bear Head, Large Lockback, Toothpick, or Small Lockback design. That's a diverse array of patterns that includes a knife for almost any task. Personally, I'd like to have a trapper. But, I guess you can't win them all.
Click any image below to launch a slide show of larger images. 
Old Forge Copper Fitted Series Details:
440A Surgical stainless steel blades
Burl-wood handles
Copper pins, liners, and ringed bolsters
Available in Medium Lockback, Hawkbill, Bear Head, Large Lockback, Toothpick, or Small Lockback design.
The Old Forge Copper Fitted Series aren't the most impressive knives out there, but they are impressive when you take their price point into consideration. You can find this whole series by clicking any of the links in this article or by clicking the button below.