Is there a better way to spend $12.99 than on the Rough Rider Hatchet Linerlock? No, absolutely not. This small EDC knife has a thick blade, quality handle, assisted opening, and it's priced right. If you're into beefy modern knives, this is one Rough Rider you definitely want to check out.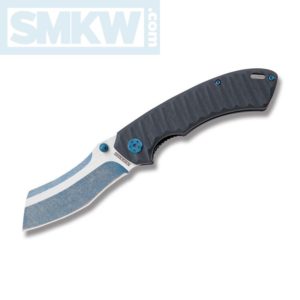 The blade is thick, coming in at 3-1/4″ in length and 3/16″ thick. It features a dual grind design with the overall shape of a sheepsfoot. This allows the blade to excel at tasks that normal pocketknives aren't suited for. I don't know if you can chop wood with a pocket knife, but I'd probably try with this model.
The 440A steel is stainless and holds a lasting edge. There is a partial blue stonewash finish on the blade that matches the blue thumbstuds and accents on the handle hardware. We love that it features an assisted opening mechanism and a flipper. Not only is it a fat little blade, but it opens quick with the pull of a lever.
The black G-10 handle is machined with a grip texture. It features a blue anodized pivot, screws, and pocket clip to match the finish on the blade. The handle includes the linerlock mechanism that locks the blade in place while in use. The overall shape of the handle is ergonomic. It includes a natural curve and finger hold that is comfortable and provides a firm grip.
Rough Rider Hatchet Linerlock Details:
440A stainless steel blade
Partial blue stonewash finish
Assisted opening
Black G-10 handle
Blue anodized thumb stud, screws and pocket clip
Lanyard hole
3-1/4″ Blade length
3/16″ Blade thickness
4-1/2″ Closed length
The Rough Rider Hatchet Linerlock is a pretty solid knife for the money. It's such a beefy little EDC knife that its almost comical. If you want something cool and have $13 to spare, grab this Rough Rider Hatchet Linerlock. You can find it by clicking any of the links in this article or by clicking the button below.