The Spyderco Memory is a tribute to knife making legend Frank Centofante. He was a respected knife maker with over forty years of experience and served as president of the American Knifemaker's Guild for over a decade until he passed away in 2009.  For many years, Mr.Centofante was a key contributor in educating Spyderco's manufacturing team, teaching them to learn how to recognize, appreciate, and build quality knives. Spyderco released the Memory folder in his honor.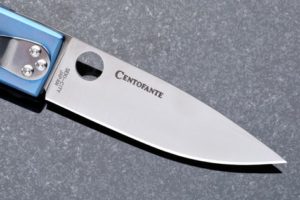 Although Mr.Centofante's custom knives took on varied and different looks, his signature style was a spear-point blade. Spyderco honored this with the spear-point design of the Memory. This flat-ground, VG-10 blade is nothing but the highest quality Japanese steel that's often found in premium kitchen cutlery. It's incredible at holding a lasting edge and can be resharpened a bit easier than other stainless steel on the market. The blade features the trademark Spyderco Round Hole and an embellishment of the Spyderco bug logo.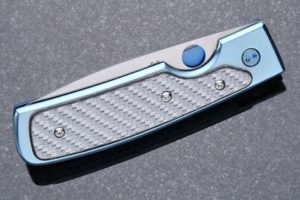 The Spyderco Memory features one of the most refined and elegant handles Spyderco has ever made. It features a blued titanium handle with a silver–colored, woven-glass fiber scale layered over the handle's front. This gives the appearance of an almost silver carbon fiber scale superimposed over sky blue titanium. It's simply beautiful, but it's also a very practical handle.
Michael Walker designed the Liner Lock mechanism in the handle. The handle features a cut out section that allows you to easily manipulate the lock without feeling for it. Spyderco even added a right-hand, tip-down pocket clip on the reverse for easy carry.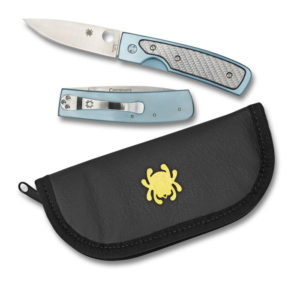 The Memory comes packaged in a black zippered pouch. It seems fitting for a knife that's guaranteed to become a noteworthy piece to Spyderco collectors and by anyone appreciative of the late Frank Centofante and his knife designs.
Spyderco Memory Details:
VG-10 Stainless steel blade
Thumb hole
Titanium handle with woven glass fiber front scale
Pocket clip
3″ Drop point blade
7/8″ Blade width
1/16″ Blade thickness
7 1/16″ Overall length
4″ Closed length
Padded vinyl storage pouch included
Made in Japan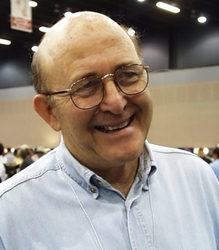 The Spyderco Memory is certainly a tribute to a legend. Spyderco tell us that Mr.Centofante used to say, "If you can't see the difference…you can't build the difference." and we think Spyderco did him justice with this knife. These knives are becoming harder and harder to find. You can find one by clicking any link in this article or by clicking the button below.