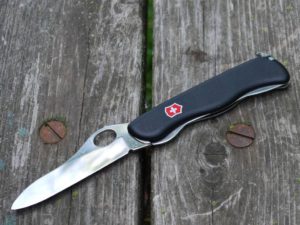 When you think about Victorinox, you're probably thinking about that classic red Swiss Army knife. However, the Victorinox Sentinel is far from it. The Sentinel takes a completely different path than most other Victorinox knives on the market, and we love it. If you want Victorinox quality fused with a more traditional pocketknife design, the Victorinox Sentinel is the knife to get.
This knife differs from a traditional SAK because it only features one blade. The Sentinel was designed with a single spear-point blade made from their popular Inox steel. This stainless steel is optimized for hardness, edge retention, and corrosive resistance. It's a 3-3/8″ blade that features a thumb hole for easy one-hand opening.
A liner lock mechanism firmly locks the blade in the open position, and Victorinox designed the locking mechanism with an exposed tab for easier operation. You can literally see it when the knife is open or closed, and the word "press" is printied on it.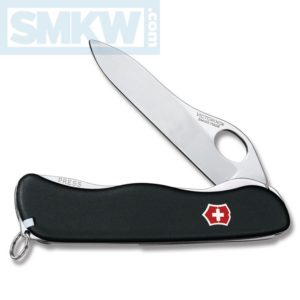 The handle is a bit more reminiscent of a standard SAK than the blade. It's a 4-7/16″ black composition design. This lightweight material is incredibly durable and impact resistant.
Victorinox molded the handle in an ergonomic shape that offers plenty of grip in adverse conditions. At the base of the handle (opposite of the blades opening), Victorinox included their popular tweezers/toothpick slots. There's also a lanyard keyring for attachment of a lanyard or a set of keys.
The odd feature on this handle is the pocket clip. Most knives made by Victorinox don't feature a pocket clip. Most of their multi-tools don't even feature a pocket clip, but this SAK does. It allows you to carry it in a much more modern fashion than others in their lineup.
Victorinox Sentinel Details:
Inox blade
Thumb hole
Keyring
Toothpick
Tweezers
Metal pocket clip
Black composition handle
3-3/8″ blade length
4-7/16″ closed length
Made in Switzerland
The Victorinox Sentinel is different from anything else found in their lineup. It still features some classic design queues like a keyring, tweezers, and toothpick. However, it also features some modern touches like a linerlock, pocket clip, and thumb hole design. If you like Victorinox but want a more familiar design, the Sentinel is the knife for you. You can find this knife by clicking any of the links in the article or by clicking the button below.