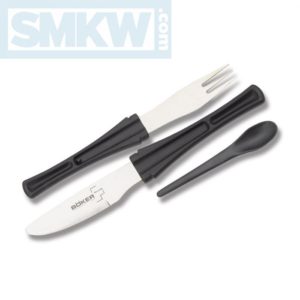 As the weather warms up, it's time to start thinking about your Spring and Summer camping trips. Nothing sucks more than getting all settled in and realizing you don't have a darn thing to eat with. The Boker Plus Snac Pac solves that problem by providing a knife, a fork, and a spoon that folds into a single polypropylene clam pack that's about the size of a hair brush.
First and foremost, the Boker Plus Snac Pac is available for only $4.99 per set. A set of four for your camping gear will cost you less than 20 bones, and you just can't beat that.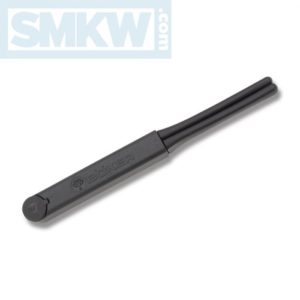 The polypropylene clam that holds the Snac Pac is basically the size of a full size hair brush. As you can see by the image, it's about 8.5″ overall and long and slender. Sliding one into your pack won't take up much room at all.
The clam houses a full size knife, fork and spoon. The knife and fork are made of 420 J stainless steel with poly handles. If you're not familiar, most of your kitchen utensils are made from 420 J stainless. It holds up well under constant use and washing. The 3.5″ blade on the Snac Pac's knife is partially serrated to get through even the grizzliest steak you've thrown on the fire. The spoon is not metal. It's full poly, which makes it a bit lighter and a bit easier to use.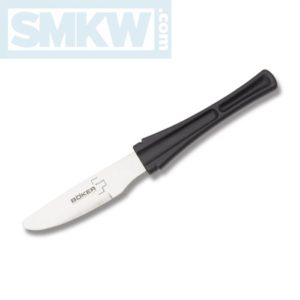 Boker tells us, "Polypropylene is the lightest synthetic ever and at the same time very hard. It also has only a slight tendency to form stress cracks. The sturdy case prevents the blade from being open and keeps the utensils clean. It also houses a refillable salt and pepper shaker with two chambers."  We think this set is perfect for your outdoor eating adventures.
Boker Plus Snac Pac Details
8.5″ Polypropylene Clam holds all 3 Utensils
Polypropylene Dessert Spoon
420 J Stainless Steel and Poly Knife and Fork
3.5″ partially serrated knife blade
Refillable Salt and Pepper Shaker Chambers
Dishwasher Safe
If you're like us and don't like roughing it, a few $4.99 sets of the Boker Plus Snac Pac could make your camping trips a lot easier. If you're interested in finding them, click any link in this article or the button below.