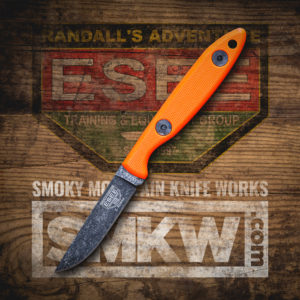 Breaking – ESEE has released a new version of the ESEE Camp Lore Cody Rowen 2.5 featuring blaze orange G10 handle scales and black oxide finished, 1095 carbon steel blade. This version maintains the shape, size, and features of the popular original model, including the leather sheath. This new version is available at the same price as the original, $79.99.
ESEE Camp Lore Cody Rowen 2.5 Details
2-1/2″ Drop Point Blade
1095 Carbon Steel
Black Oxide Finish
Blade thickness: 1/8″
Blaze Orange G10 Handles
Full Tang construction
6-1/4″ Overall
Leather sheath
Made in the USA
If you've forgotten the original, ESEE put together a great little video with Patrick Rollins about it. Just remember that the knife in this video is the original. The latest version has blaze orange G10 Handles and a Black Oxide Finish blade.
You can order the new ESEE Camp  Lore Cody Rowen 2.5 at Smoky Mountain Knife Works (smkw.com) for only $73.99. To find it, simply click any link in this article or the button below.