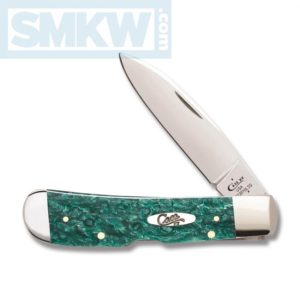 The new Case Green Sparkle Kirinite series is metallic green and highly reflective with a smooth, slip resistant polish. For those of you, who aren't familiar with Kirinite, it's a high end precious resin that resists cracking, chipping, warping, and shrinking. Frankly, it's both beautiful and durable when done right, and Case does it right.
The Green Sparkle Kirinite series is available in five patterns, including the Tribal Lock, Medium Texas Toothpick, Medium Stockman, Peanut, and Teardrop patterns. Each knife features Case Tru-Sharp surgical steel blades, nickel silver bolsters and shields, and brass pins and liners. This series ranges in price from $51.99 (for the Peanut Pattern) to $68.99 (for the Tribal Lock Pattern).
Click on any thumbnail below to launch a slide show of larger images.
Case Green Sparkle Kirinite Details:
Case Tru-Sharp Surgical Steel
Nickle Bolsters and Shields
Brass Pins and Liners
Green Sparkle Kirinite Handles
The Case Green Sparkle Kirinite handle knives are classic Case knives made with modern technology and materials. If you're a Case collector, these make a stunning and eye catching addition to your collection. You can find these knives by clicking any link in this article or the button below.