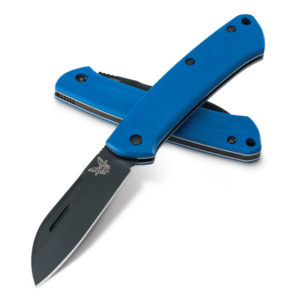 Benchmade has just released the new Benchmade 319DLC-1801 Proper, a modern slipjoint knife that features bright blue G10 handles and a black-coated CPM-S30V steel blade. As Benchmade says, "Benchmade breaks convention with the first individually numbered, limited edition variant of the Proper." This variant of the Proper marries modern materials to a classic mechanism, which yields a simple, practical – tough as nails – folder. "This isn't your grandpa's slip-joint," Benchmade tells us, and they're right.
The Proper features a 2.86″, Black DLC Coated, sheepsfoot blade made from CPM-S3oV stainless steel. This particular S30V has a Rockwell Hardness of 58-60HRC). When the blade is open, the Proper is 6.69″ overall, and closed, it's just 3.85″
It also features smooth blue G10 handle scales with stainless steel liners. The handle hardware is also black coated which really pulls the Proper together.
Limited Edition Benchmade 319DLC-1801 Proper Details
2.86″ Sheepsfoot Blade
CPM-S30V DLC-Coated Blade
2.2mm Thick
Slip-joint
Smooth Blue G10 Handles
.4″ Handle Thickness
3.85″ Closed
6.69″ Overall
2.32 oz.
Individually Numbered Limited Edition
Made in the USA
The Benchmade 319DLC-1801 Proper is nice modern take on a traditional pattern. You can put this Limited Edition in your pocket or add it to your collection and get your money's worth. It's now available for pre-order at smkw.com. If you'd like one, simply click any link in this article or the button below.