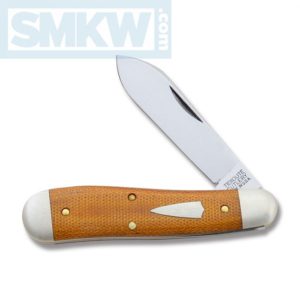 If you're a fan of American made traditional pocketknives at all, you know Tidioute Cutlery and Great Eastern Cutlery. The new Tidioute Cutlery Bird Dog Jack Pattern, like most offerings from Tidioute Cutlery, will be snatched up in a heartbeat by collectors and users around the world. Yes, they are that good.
First, the Tidioute Cutlery Bird Dog Jack features a single, hammer tested, frozen forged 1095 carbon steel blade. GEC tells us this it's a 2 9/15″ spear point with a satin finish. The natural Canvas Micarta handles feature brass pins and liners, with nickel silver bolsters and a nickel silver shield.
The Bird Dog Jack is 6″ open and 3 1/2″ closed. It weighs just about two ounces and has incredible fit and finish. For those purists out there, this is the #56 pattern.
Tidioute Cutlery #56 Bird Dog Jack Details
Blade Material 1095 Carbon Steel
Finish Satin
Blade Length 2.56″
Natural Canvas Micarta Handles
Nickel Silver Bolsters and Shield
Brass Liners and Pins
Closed Length 3.50″
Overall Length 6.00″
Weight 2.00 oz
Made in the USA
If you want one of these, we suggest you hurry. Tidioute Cutlery knives always go fast. You can find the Bird Dog Jack by clicking any link in this article or the button below.


Images courtesy of Smoky Mountain Knife Works – smkw.com