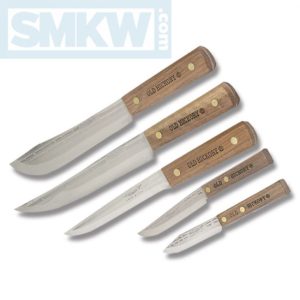 There are a lot of things that aren't being made the way they used to be, but the Ontario Knife Company has been making the Old Hickory knives right here in the USA with very few changes for well over 90 years.
There have been rumors about "old" Old Hickory being better than "new" Old Hickory.  We called Ontario Knife Company to find out what's an internet rumor and what's fact when it comes to their Old Hickory line.  Fact of the matter is, they're the same. An Old Hickory knife you buy right now is pretty much the same knife as the Old Hickory your grandpa bought back in the 1950's.
Here are the biggest differences between an old Old Hickory and a new Old Hickory. Rather than hickory, the handles are now made with walnut.  Hickory is expensive. Walnut is less expensive. Buying a less expensive hardwood keeps the price of the knife down, and the difference in hardness between hickory and walnut  is negligible when it comes to use as a handle.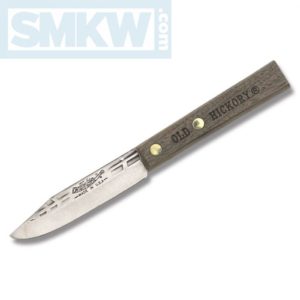 "But it used to patina," they say. Over the years, grandpa's Old Hickory acquired a beautiful patina.  Give your new Old Hickory time, and it'll acquire the same patina your grandpa's did.
Grandpa's Old Hickory was razor sharp, and the new Old Hickory knife isn't as sharp as grandpa's old Old Hickory.  Grandpa probably enjoyed sharpening his Old Hickory, and he probably honed it regularly. It's a 1095 carbon steel blade. It occasionally needs sharpening. It constantly needs honing. Fortunately, 1095 carbon steel easily takes a fabulous edge that will hold for quite some time if you hone it before each use.
Old Hickory knives require care and maintenance. It's a process. Hone it before you use it.  Wipe the blade after you use it – especially if you're using it to cut acidic foods.  Occasionally give the blade a light coating with your preferred oil.  Always keep in mind that 1095 carbon steel is not corrosion proof. It will rust.  It is not dishwasher safe. Your best bet is to wash it and immediately dry it.
Old Hickory Details
1095 Carbon Steel
Etched Blade
Full Tang
Old Hickory Branded Stamp, Walnut Handle
Double Brass Rivets
Made in the USA
If you care for a new Old Hickory knife, someday it will be an old Old Hickory knife.  For heirloom items that have been handed down for generations, Old Hickory knives are shockingly cheap. You can buy a single knife just to try out the line for as little as $8.99, or you can buy a full five-piece set for less than $50. In the world of quality kitchen cutlery, that's a great price.
If you're interested in these knives, click any link in the article or simply click the button below.