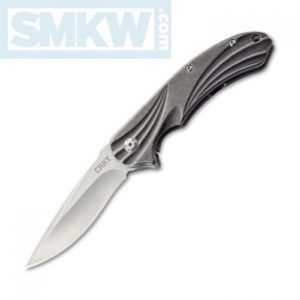 The CRKT Williwaw, definitely CRKT's ode to a gentlemen's knife in this year's lineup, was Designed by Jim Hammond.  According to CRKT the design of the sturdy, black stonewashed 2Cr13 stainless steel handle is a nod to "a frigid wind that originates in the Alaskan mountains and ends blasting into the coastal fjords."
The handle of the Williwaw really gets your attention. The sweeping "wind lines" on both sides of the knife really create something special on this knife, and CRKT even carried the them across the framelock on the back of this knife.
The Williwaw features a satin coated, 8Cr13MoV stainless steel drop point blade that's just over 3″ long. The grind lines on this satin finished blade are gorgeous, and the manual fipper action is silky smooth.
The CRKT Williwaw utilizes CRKT's trademarked IKS ball bearing pivot system. The folding knife pivot houses lubed stainless steel ball bearings.  This reduces friction which results in a flipper action that is smooth and consistent.
The tip-down pocket clip and a lanyard hole make the CRKT Williwaw an easily carried EDC folder.
CRKT Williwaw Details
8Cr13MoV, Satin Finish
3.026″ Drop Point
0.123″" Blade Thickness
2Cr13  Stonewash Coated Stainless Steel Handle
IKS Ball Bearing Flipper
Folder with Frame Lock
Tip-down Pocket Clip
Lanyard Hole
4.155″ Closed
7.125″ Overall
4.7 oz Weight
The CRKT Williwaw is a solid, cool knife you can toss in your pocket for less than $40.  If you're interested in this knife, click any link in the article or simply click the button below.