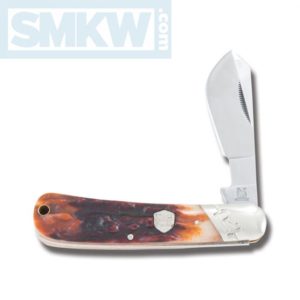 Over time, some traditional pocketknife patterns have lost favor and even vanished. The Rough Rider Cotton Sampler re-introduces the traditional pocketknife enthusiast to the once-popular Cotton Sampler pattern. It looks like nothing on the market, but works well as an everyday carry.
If you're not familiar with the Cotton Sampler, it has very unique shaped blade. There's about an inch from bolster to tang that isn't sharpened at all, and then the blade bulges out like a short, pregnant spay blade. According to what we've found, cotton buyers used about the first inch or so to grade cotton. Though the art has been mostly lost, buyers used that portion of the knife to roll cotton fiber onto the blade with the thumb. The blade itself was used to plunge deep into a bale of cotton and retrieve a sample – hence the term, Cotton Sampler.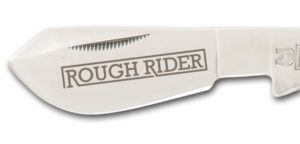 The Rough Rider Cotton Sampler works well as an EDC and excels at everyday cutting tasks. The over-sized belly allows you to cut rope and twine more easily. It's truly just a well-rounded, very different shaped one-blade jack knife.
Over the last couple of years, Rough Rider introduced five versions of the Cotton Sampler with different handle materials. You can find the pattern in Rough Riders' Brown Stag Bone, Buckshot Bone, Ram's Horn Bone, Appaloosa Bone, and Black Smooth Bone with Titanium Coated Blades series.
All of the Rough Rider Cotton Samplers feature 2.25″ 440A Stainless Steel blades (including the titanium-coated version), as well as nickel silver bolsters. As you can see in the gallery below, three of the knives feature Rough Riders' new Slant R bolster and two do not. All five feature different nickel silver Rough Rider shields.
Click any image below to launch a slide show of larger images. 
Rough Rider Cotton Sampler Pattern Details
440A Stainless Steel Blade
Natural Handle Materials
Nickel Silver Bolster and Shields
2.25″ Blade
1/16″ Thick
4 1/8″ Closed
6 1/4″ Overall
Decorative/Collectible Box
We hope the Rough Rider Cotton Sampler pattern catches on and is here to stay. If you're interested in finding one, simply click any link in this article or the button below. Any one of five is just under $13 to take home.


Images courtesy of Smoky Mountain Knife Works – smkw.com