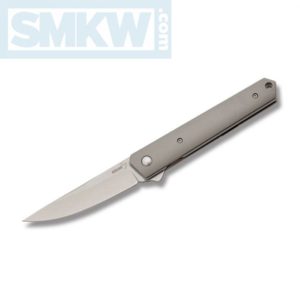 Designed by Lucas Burnley, the Boker Plus Kwaiken Flipper is a thing of beauty.  In an era when complicated cutouts and flashy etchings dominate the market, the clean modern lines and smooth feel of the Boker Plus Kwaiken Flipper is a breath of fresh air. There's an understated elegance to this knife that we just adore.
At less than one inch overall width, it has a lighter weight and a slim design which makes it an outstanding EDC. The well-balanced feel make it as much a joy to hold as to behold.
Though we could likely wax poetic forever about how we think this is among one of the prettiest knives on the market, we should probably talk about the functionality and durability of knife itself first. Yes, it is super pretty. It's also simply a quality knife. You can feel it the very instant you pick it up.
First things first.  The 3.5" drop point blade is made of VG10 stainless steel.  The relatively high carbon content of the steel takes and holds an exceptionally sharp edge.  The blade is only 0.10" thick which allows for the sleek and slim Titanium scale frame. It also has a removable tip-up pocket clip.
We can't talk about a manual flipper without addressing the flipper action. Just like the look of Kwaiken, the flipper action is quiet, understated, and discreet. There's no big "kapow", it's just a smooth little snick.  You don't have to fling your elbow into the opening. It just needs a little flick. The Linerlock securely locks the blade in place, and is easy to use one handed.
Kwaiken Flipper Details:
3.5″ Drop Point
VG10 Steel
0.10mm Thick
13/16″ Wide
Titanium Handle
Folding Manual Flipper
Linerlock
4.75″ Closed
8.25″ Overall
5.4 oz
The  Boker Plus Kwaiken Flipper is a beautiful, quality knife to add to your collection. If you'd like more information about this knife, click any link in this article or simply click the button below.