CRKT introduces three new EDC folders with Field Strip technology for their 2018 lineup. In case you live in a cave and missed the advent of Ken Onion's amazing Field Strip technology, Field Strip allows you to quickly and easily dissemble and reassemble your pocket folders without tools. It's as easy as closing your knife, flipping the lever, and rotating the wheel until the handle separates from the blade.  To reassemble, you just reverse the process. You can break down your knife without tools and clean it anywhere. CRKT is offering three new Field Strip knives this year. Let's have a look.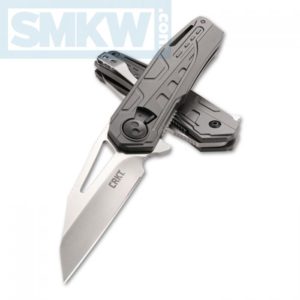 First up is the Raikiri, designed by Dew Hara.  CRKT tells us, "From his hometown of Seki, Japan, Dew Hara has learned from the best—his father, Koji Hara, is one of the most respected designers in the world. Though Dew is relatively new to knife design, he's making a serious name for himself."
With a 3.759" satin finished, modified wharncliffe blade made of 1.4116 stainless steel the Raikiri™ is a sexy looking flipper. ADC12 aluminum handles with shapely lines, intricate curves, it's almost easy to instantly see how Dew Hara's design draws inspiration from the legendary Lightening Sword. CRKT tells us, "With a sharply contrasting line, the movement in the design nods at the slashing motion of the famous sword Iaido, which has been a strong influence over Dew's inspiration."
CRKT Raikiri Details
3.759″ Wharncliff Blade
1.4116 SS
Satin Finish
0.134″ Blade Thickness
5.112″ Closed
8.938″ Overall
Weight 5.0 oz
Cold Forged ADC12 Aluminium Handles
Folding Knife w/Locking Liner
Flipper and Thumb Hole opener
Tip-up Pocket Clip
Field Strip Technology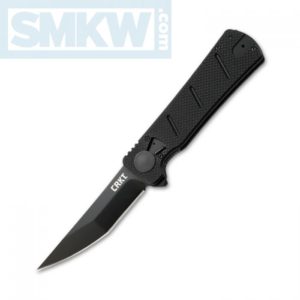 Designed by James Williams, former U.S. Army officer and one of the nation's most revered martial artists, the CRKT Goken Folding Knife with Field Strip technology is a remarkable folding tactical knife.  CRKT says it has the "[g]race of a falcon, grit of a warrior."  We tend to agree.
The CRKT Goken is beautiful knife. It features a 3.7" James Williams modified Osoraku Zukuri tanto blade style with a black powder coat.  It has a discreet flipper, a locking liner, textured G10 handles, and Field Strip technology.
CRKT Goken Details
 3.693″ Blade Length
1.4116 EDP Coated Stainless Steel
0.136″ Blade Thickness
Folding Knife w/Locking Liner
Flipper Opening
4.854″ Closed
8.563″ Overall
4.2 oz
Reversible Tip-Up Pocket Clip
Field Strip Technology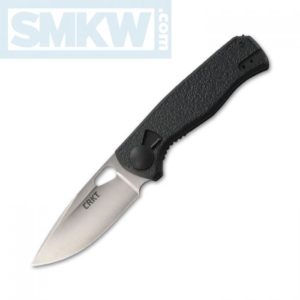 Designed by Jesper Voxnaes of Loegstrup, Denmark the HVAS from CRKT is a minimalist's dream. The lines and design are clean and appealing.  CRKT tells us, "The name HVAS™ (pronounced simply vas) harkens to the knife's Old Norse roots, translating to 'sharp' in the ancient language…"
It features a 3.3" satin coated 1.4116 steel blade with a thumb hole opener. The tip-up pocket clip is reversible.  Textured glass-reinforced nylon injection-molded handles ensure slip resistance.
Best of all, you can add this fantastic knife to your collection and test the Field Strip technology for yourself for less than $60.
CRKT HVAS Details
3.339″ Blade Length
1.4116 SS
Satin Finish
0.126″ Blade Thickness
Glass Filled Nylon Handle
Folding Knife w/Locking Liner
4.525″ Closed
7.875" Overall
3.7 oz Weight