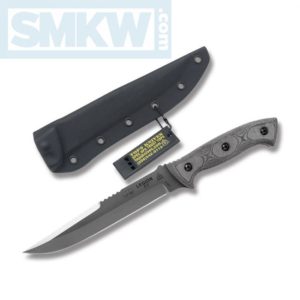 In 2016, TOPS Knives released the TOPS Hazen Legion 6.0, a slim, tactical combat knife with sleek lines. The Legion 6.0's original MSRP was $210, but it's now available at Smoky Mountain Knife Works (smkw.com) for just under $120. That's a steal for a knife of this quality.
The 11.5″ Legion 6.0 features full tang construction with a 6.7″ 1095 carbon steel blade. It's .19″ thick and has triple-riveted black Micarta handle scales. "It was designed for combat. The tip is great for deep penetration, and the long blade gives plenty of real estate for slashing cuts too," TOPS tells us. It's a long, lean fighting machine. That's clear, but TOPS tells us it's much more than that.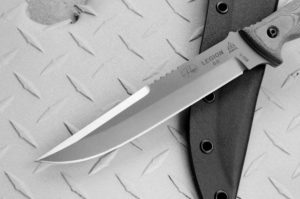 "Aside from being a tactical knife, this piece is great for field operators as it will perform many outdoors tasks well. Plus, 1095 high carbon steel is easy to re-sharpen in the field when it becomes necessary," TOPS says.
According to TOPS, Mark Hazen has been designing and making custom knives since 1976 and had a lot of success through the years. His Legion model among that success. In 2015, Hazen approached TOPS Knives with the prospect of making one of his designs into a production piece. TOPS said yes, and the Legion 6.0 was born.
TOPS Hazen Legion 6.0 Details
Sandblasted 1095 Carbon Steel
Black Micarta Handles
Triple rivets
Full tang construction
6.75″ clip point blade with heavy top swedge
Thumb ramp with Jimping
Blade thickness: 3/16″
11.5″ overall
Comes with a Black Kydex sheath
Made in the USA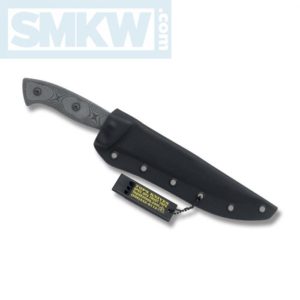 It's hard to find the kind of quality you'll find in the TOPS Hazen Legion 6.0 at this price range, and we're guessing that whatever's left won't last long. If you're interested in this knife, simply click any of the links in this article or the button below.


Images courtesy of Smoky Mountain Knife Works – smkw.com.