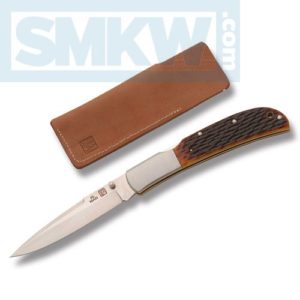 I was too little to pay much attention to my relatives talking about knives back in the knife swapping days of my youth.  I was far too busy trying to toss whatever knife they'd handed me into the dirt like the grown-ups were doing.  But if I had access to a time machine and could teleport back to the days when my great-grandfather and his friends (and family) would swap knives, the Al Mar Eagle Talon with a honey jigged bone handle is the exact knife I would toss down to introduce him to modern knives.
Pap wasn't much for new things, unless they were spectacularly useful and awesome.  He didn't like cars and refused to learn to drive. His preferred transportation method was a horse.  Once it became too painful to ride a horse, he drove his tractor if he couldn't walk, but this new-to-him thing, I think, would have knocked his socks off.
The Al Mar Eagle Talon combines the look of the beautiful fit and finish of a traditional pocketknife with with modern technology and materials.  The easily reached thumb stud opening is what really sets this knife apart from the rest.  It has an amazingly smooth and easy action for a manual, thumb stud opener.  The locking mechanism is sturdy but not overly fussy, and also easily one-hand operated.  The satin finished AUS-8 spear point blade is well crafted and elegant.  It also has a lanyard hole, nickel silver pins, stainless steel bolsters over brass liners, and it comes with a leather pouch.
Al Mar Eagle Talon with Honey Jigged Bone Handle Details
AUS-8
4″ Spear Point, Satin Finish
Blade width 3/4″
Amber Jigged Bone Handle
Thumb Studs
Brass Liners
Nickel Silver Pins
Stainless Steel Bolsters
Lanyard Hole
Leather Pouch
4 oz
4 7/8″ closed
8 7/8″ Overall
We at Knife Newsroom do not endorse or recommend throwing knives into the dirt. Knife Newsroom does not endorse or recommend throwing any knife that is not designated a "throwing knife" at all, ever.  It's a bad idea, and you shouldn't do it.  Not even if Pap said, "If a little dirt breaks the knife, it ain't much of a knife."
If you're looking for a knife that might impress your great-grandpa, you probably won't go wrong with the Al Mar Eagle Talon with a honey jigged bone handle. If you're interested in this knife, you can click any link in this article or simply click the button below.


Images courtesy of Smoky Mountain Knife Works – smkw.com