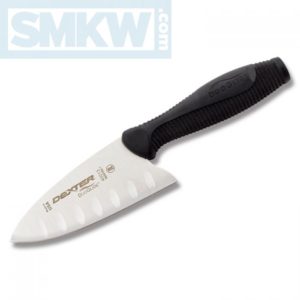 The knives in the Dexter-Russell DuoGlide series have an incredibly comfortable grip. If you've ever peeled what seems like a billion pounds of produce, you know how tired your hands can get. Comfort can be a huge factor in how much you love your knife, and these knives are so comfortable they received an Ease-of-Use commendation from the Arthritis Foundation.  The remarkably slip resistant, rubberized polypropylene grip is spectacularly soft. It's also large enough that you don't have to make a tight fist when you hold it.
Used in many commercial kitchens, Dexter-Russell is the largest manufacturer of kitchen knives in the United States. They are known for making great kitchen cutlery at an affordable price. Each knife features Dexter-Russell's individually ground and honed proprietary DEXSTEEL™ blades, as well as a professional grade cross polish. The high-carbon, high-alloy stainless steel provides enhanced sharpness, edge retention, corrosion resistance, and easy re-sharpening.  The 5" Duo-Edge Utility Knife has hallow ground ovals which reduce friction and provide an easier slice.
Additionally, the Dexter-Russell DuoGlide series is National Sanitation Certified which, "…assures suppliers, retailers, regulators and consumers that an independent organization has reviewed a product's manufacturing process and determined that the product complies with specific standards for safety, quality, sustainability or performance."
Dexter-Russell DuoGlide 5" Duo-Edge Utility Knife Details
5" High Carbon DEXSTEEL Stainless Steel
Granton Duo-Edge
Polypropylene
10" Overall
Made in USA
Dexter Russell DuoGlide 3 3/8″ Paring Knife Details
3 3/8" High Carbon DEXSTEEL Stainless Steel
Spear Point Duo-Edge
Polypropylene
8 3/8" Overall
Made in USA
Good steel, great grip, and a reasonable price. If you already have a from the Dexter-Russell DuoGlide series, let us know what you think.  To find these knives, click any link in the article, or simply click the button below.


All images courtesy of Smoky Mountain Knife works – smkw.com.