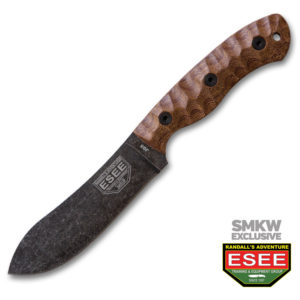 ESEE and Smoky Mountain Knife Works announce the SMKW exclusive ESEE JG5. Designed by James Gibson, the JG5 was inspired by the knife carried by the great-grandfather of ultra-light bushcrafting, George Washington Sears (aka Nessmuk). This is exciting because the bushcraft world is not exactly inundated with historical camp knives, much less with Nessmuk knives.
Published in 1910, Woodcraft and Camping is a virtual vault of valuable information. GWS famously states in that book one should, "Go light; the lighter the better, so that you have the simplest material for health, comfort and enjoyment."  Other than a hand drawn picture in Woodcraft, Nessmuk gave very little guidance about what he looked for in a knife except to note that it should be, "thin in the blade, and handy for skinning, cutting meat, or eating with."  The ESEE JG5 meets all those qualifications.
First up, lightening the load. The JG5 weighs in at only 5.3 ounces. This means it's an incredibly lightweight knife for its size.  It's a touch lighter than the ESEE 4, and almost one pound less than the ESEE 5.  To put that in perspective for our non-ultralight camping readers, this knife weighs less than a can of soda.   Although the JG5 is lightweight, that doesn't mean it is lacking in durability.
The second requirement for a thin blade is handily met. This knife features a blade that is only .125″ thick.  Additionally, the wide belly, the long slicing edge, and the recurve on the spine of the blade makes this an ideal skinner and slicer. Full tang constructed of 1095 carbon steel with a black oxide coating, the thinness of the blade is countered by the durability of the build and materials used.  The coating helps prevent corrosion and rust. 1095 carbon steel is durable and easily tolerates a fair amount of abuse.
The handle design appears to pay homage to James Gibson's love for flint knapping. The rugged, sculpted micarta handles are triple riveted and have an incredibly nice hand feel and no detectable hot spots. The JG5 also comes with a stitched leather pouch sheath with a belt loop attachment.
ESEE JG5 Details
1095 Carbon Steel
4.875″ Tumbled Black Oxide Finished
0.125″ Blade Thickness
Carved Micarta Handles
Stitched Leather Sheath
Lanyard Hole
9.625″ Overall
5.3 Oz
Designed by James Gibson
Made in the USA
All in all, we think the ESEE JG5 is a great knife and fantastic tribute to "Nessmuk."  If you're interested in this knife, click any link in the article or simply click the button below.


All images courtesy of Smoky Mountain Knife Works – smkw.com.