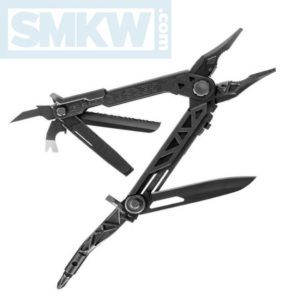 The Gerber Center Drive Multi-Tool features full-sized tools, one-hand opening, and a center-axis driver that truly sets it apart from other tools on the market. For 2018, Gerber has introduced a black version of it's flagship tool.
The new version features a black oxide finish but doesn't stray far from the original tool. Gerber tells us, "The innovative center-axis driver opens to align like a real screw driver, yielding maximum torque and rotation. No productivity is sacrificed with the addition of a 30% longer outboard blade and one-thumb opening sliding jaws. Full size, real tools…" Additionally, flat head, Phillips head, and weapons maintenance driver bit sets for the magnetic center driver are available in different versions of the Center Drive.
The opening mechanism is a "one-thumb" opening system featuring spring loaded needle nose pliers with an X-Channel Rail System. The full-sized needle nose pliers have rotatable carbide wire cutters and wire strippers.
The Center Drive also features a full-size, 3.25″, 420HC plain edge knife blade (with a thumb hole), as well as a 420HC serrated blade. To round the tool out, there's also a pry bar with a nail puller, a bottle opener, an awl, a file, and oh, there's a lanyard hole, because why not?
Finally, there are now five different models for the Gerber Center Drive Multi-Tool.  The difference between those five models lies in the various sheaths and bit sets, and now with the tool's outer finish.
Gerber Center Drive Multi-Tool Details
3.25″ 420HC fine edge blade
Serrated Blade
One-thumb opening system
Spring-loaded needlenose pliers w/ X-Channel rail system
Rotatable Carbide Wire Cutters & Strippers
Magnetic 3.2″ Center-Axis Bit Driver
Pry Bar with Nail Puller & Bottle Opener
Magnetic Flat head and Phillips Bits
Weapons Maintenance Bit Set
File and Awl
Lanyard hole
Fabric sheath
4.7″ Closed
6.6" Open
Weight: 9.5 oz
Made in USA
All in all, the Gerber Center Drive Multi-Tool is a useful multi-tool that features a center-axis bit drive, full-sized tools and one-hand opening. If you're interested in this multi-tool, click any link in this article or simply click the button below.


All images courtesy of Smoky Mountain Knife Works – smkw.com.